Crunchy, Smokey Chickpeas

This simple recipe is an oldie, but goodie. It comes from my dear friend Janelle, who is a vegan mama to two adorable little girls, and she also runs marathons, so she knows a thing or two about plant powered fuel. One of her favorite protein sources? The humble chickpea. We'd roast chickpeas in the toaster oven, and we'd top our salads with them, or just eat them like popcorn. They're also a great snack for kids, you can even make a sweet version with cinnamon if that's your jam.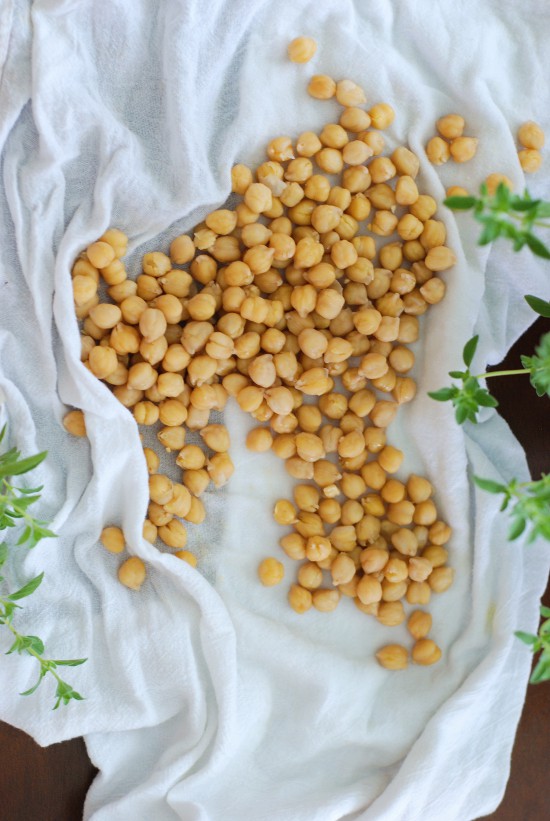 Ingredients
2 cups cooked chickpeas
1 tablespoon olive oil, plus extra for baking sheet
1/4 teaspoon salt
1/2 teaspoon cumin
3/4 teaspoon smoked paprika
2 tablespoons fresh oregano leaves (or 1 tsp dried oregano)
Directions
Preheat the oven to 400 F.  (I use a toaster oven for convenience.) Grease a baking sheet with a small amount of olive oil. Rinse the chickpeas and pat them dry on a clean dish towel. Make sure they are thoroughly dried.
In a bowl, toss the chickpeas with the olive oil. Add the salt, spices, and oregano and mix well.
Spread the chickpeas in a single layer on a baking sheet, making sure they are spread out well. If they're too close together, they won't get crispy.
Bake the chickpeas for 15 minutes. Then, remove from the oven and carefully stir the chickpeas around the pan with a spatula. Return to the oven for 5-10 more minutes, until some of the chickpeas are just beginning to brown.
Remove from the oven, let cool, and transfer to a bowl to serve. Store in an airtight container to keep the chickpeas crispy!
If you give this recipe a try, take a photo and tag
#crueltyfreefamily
and/or
#pleasepassthepeace
. We are so excited to see your recreations!