In my pre-vegan life, I used to eat an omelette every weekend. I still take brunch seriously, but now I enjoy tofu scramble or vegan pancakes. But I really missed omelettes. Enter chickpea flour. It's eggy, it's protein-y, and when you mix it with liquid, you get a nice batter you can make crepe-y, pancake-y things with. I find this recipe works best if you make small pancake- sized nomelettes, so I like to stack 'em and eat 'em like pancakes. You can mix in anything you want into the batter. Peppers, onions, vegan bacon, or my favorite… spinach and garlic!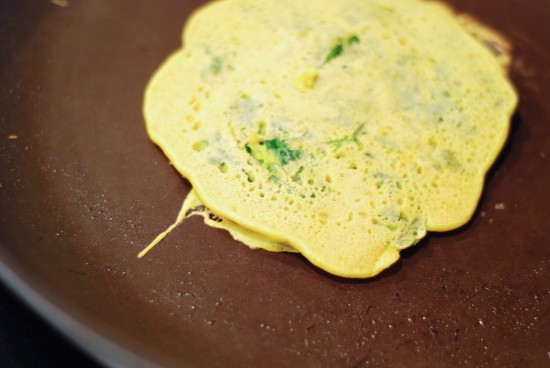 Ingredients
1 tablespooon coconut oil
3 cups fresh spinach
2 cloves garlic, minced
1 1/2 cups chickpea flour
1 cup almond milk
1 cup water
1/4 cup nutritional yeast
1/2 teaspoon salt
1/2 teaspoon turmeric
Directions
In a nonstick frying pan, heat 1/2 tablespoon  oil over medium heat. Cook the garlic and the spinach in the pan for 2-3 minutes, until the spinach is wilted. Turn off the heat.
In a mixing bowl, mix together the chickpea flour, almond milk, water, nutritional yeast, salt, and tumeric. Stir well. Add the garlic and spinach to the batter.
Wipe the frying pan clean, add a little more coconut oil to the pan, and ladle 1/2 cup batter into the pan, like when making  pancakes.
Let cook for 3-4 minutes on one side, then flip with a spatula, and cook for 2-3 more minutes. Repeat with the rest of the batter.
Serve warm. I like to eat these with a drizzle of tahini or sriracha on top. My husband likes to eat them the same way he used to eat his omelettes… with ketchup!
If you give this recipe a try, take a photo and tag
#crueltyfreefamily
and/or
#pleasepassthepeace
. We are so excited to see your recreations!