A delicious summertime sandwich with crunchy well-seasoned mushrooms and a tangy, creamy sauce. Our oceans are wayyyy over-fished and this is an equally tasty alternative to the classic shrimp sandwiches!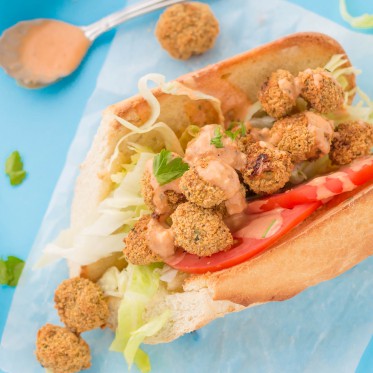 Ingredients
For the baked mushrooms:
4oz button mushrooms, rinsed
1/4 cup whole wheat flour
1/4 cup almond milk
1/2 cup whole wheat panko bread crumbs
2 tablespoons nutritional yeast
1 teaspoons garlic powder
1/2 teaspoon onion powder
1/4 teaspoon dried parsley
1/4 Old Bay seasoning
1/2 teaspoon salt
1/4 teaspoon black pepper
For the remoulade sauce:
1/2 cup vegan mayo
1 tablespoon ketchup
1 tablespoon pickle juice
1-2 tablespoons freshly squeezed lemon juice (depending on desired tanginess)
2 teaspoons vegan horseradish sauce (when you buy, check ingredients! Some have milk/cream.)
1/2 teaspoon yellow mustard
1 clove garlic, minced
Few drops of hot sauce
1/2 teaspoon Old Bay seasoning
1 teaspoon paprika
1/4 teaspoon dried parsley
Salt and pepper to taste
For the sandwich:
shredded lettuce
sliced tomatoes
4 hoagie style rolls
2 tablespoons vegan butter
1 teaspoon garlic powder
Directions
For the mushrooms:
Preheat the oven to 450 degrees.
Put mushrooms in a medium bowl.
In a small bowl, whisk together flour and almond milk until smooth. Pour over the mushrooms and toss until evenly coated.
In a medium bowl, add bread crumbs, nutritional yeast, and spices. Mix with a spoon briefly.
Transfer the coated mushrooms to a large freezer bag. Pour bread crumbs into freezer bag, close, and shake around until mushrooms are coated thoroughly with bread crumbs.
Line a baking sheet with parchment paper. Spread mushrooms out on sheet. Place in the oven and bake 30-35 minutes until mushrooms are crispy and golden brown.
For the sauce:
Add all ingredients to a medium bowl and whisk. Set aside until serving.
To assemble:
In a small bowl, whisk butter and garlic powder together.
Slice, open bread, and spread butter on each side. When the mushrooms have finished baking, remove them from the baking sheet and lay down your bread on sheet, buttered side up. Place in the oven and broil on high for about one minute. Watch carefully to avoid burning. Take out when the bread has golden brown edges.
Top bread with shredded lettuce, tomato slices, mushrooms, and then drizzle remoulade sauce to finish. Serve immediately.
Enjoy!
If you give this recipe a try, take a photo and tag
#crueltyfreefamily
and/or
#pleasepassthepeace
. We are so excited to see your recreations!