This year is my first year, ever, having my own garden. I love getting my little ones involved, planting seeds, watering, weeding, and best of all harvesting!
We were super excited to harvest our first veg! Snow peas! We planted lots, so we have been putting them in salads and finding all sorts of creative ways to use them, and this dish has to be my favourite way.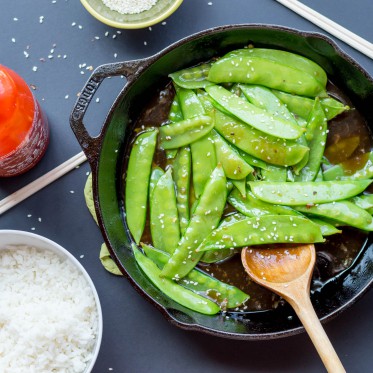 Ingredients
3 tablespoons liquid aminos
3 tablespoons water
2 tablespoons agave
1 teaspoon toasted sesame oil
1/4 teaspoon sriracha
2 teaspoons cornstarch
pinch of ground ginger
1 tablespoon coconut or olive oil
4 cloves garlic, minced
1 pound snow peas, rinsed
red pepper flakes and sesame seeds for garnish
Directions
In a medium bowl, whisk together liquid aminos, water, agave, sesame oil, sriracha, cornstarch, and ginger. Set aside.
Heat coconut or olive oil in a medium skillet. Add garlic and sauté until fragrant. Add snow peas. Pour in liquid. Simmer for 3-5 minutes, allowing the peas to become bright green and the liquid to thicken up.
Sprinkle with red pepper flakes and sesame seeds.
Enjoy!
If you give this recipe a try, take a photo and tag
#crueltyfreefamily
and/or
#pleasepassthepeace
. We are so excited to see your recreations!