Thanksgiving Skillet Rolls

These rolls NEED to be on your table for Thanksgiving! They are THE rolls. The rolls that your Nana asks you to make for EVERY gathering, not just on holidays. The rolls that your younger brother spoils his appetite with. The rolls that make your in-laws like you a little bit more.
I've been wooing with these rolls for a few years, but not too long ago I veganized them. I am happy to report that in doing so, I did not lose any of the buttery taste, or pillow-like texture. Did I just bust the myth that vegan food doesn't taste good, for like the billionth time? Yes I did.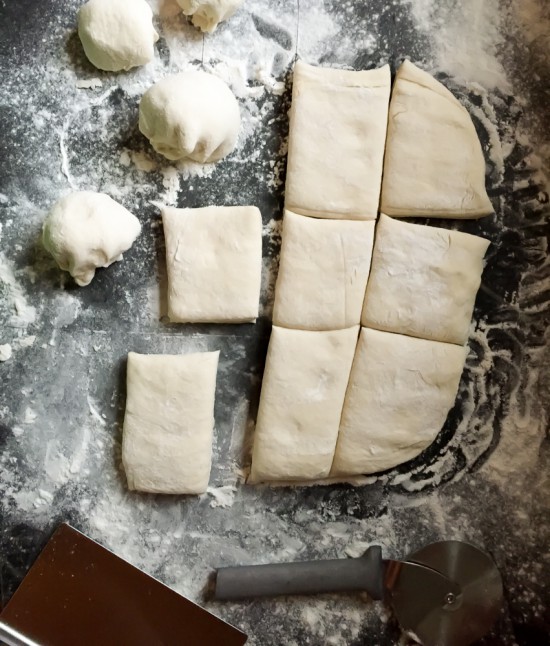 Ingredients
*Makes 12 rolls
1 1/2 cups none dairy milk
2 tablespoons sugar
2 teaspoons salt
5 tablespoons vegan butter
2 1/4 teaspoons active dry yeast (or one packet)
3 1/2 cups flour
1 1/2 tablespoons vegan butter for brushing
2 teaspoons fresh rosemary, chopped
Directions
Add your milk, sugar, salt, and vegan butter into a medium bowl. You can warm this in a pan, on the stove top and all of that jazz, but I just stick it in the microwave until the butter is melted and the mixture is warm but NOT HOT. 1-2 minutes.
Sprinkle in your yeast. Let sit until fragrant and frothy. 5-10 minutes
Measure your flour into a large bowl. When yeast is ready pour wet into dry. Mix until it's a shaggy dough.
Turn out onto floured surface. Knead for about 3-5 minutes, adding flour as needed, until your dough is smooth and isn't sticky.
Grease the large bowl and put your dough back in. Place a damp tea towel over the top and let rise for about three hours.
Roll out onto a floured surface and make a square with the dough. Cut into 12 equal squares. Take each square and fold the edges underneath and pinch, it'll look similar to a balloon.
Place (pinched side down) into a greased cast iron skillet and let rise again for about an hour.
Preheat your oven to 350 degrees
 In a very small glass bowl add your butter and rosemary. Stick it in the microwave for about twenty seconds or so, to melt.
 Brush your rolls with the rosemary butter, stick them in the oven, and bake for about 35 minutes. Take them out when they are nice and golden brown. Sprinkle a little more rosemary if desired.
 Enjoy!
If you give this recipe a try, take a photo and tag
#crueltyfreefamily
and/or
#pleasepassthepeace
. We are so excited to see your recreations!