Espresso Balsamic Beet Sliders

Ok, ok, I know espresso, balsamic, and beets might sound like a strange combination for a veggie burger. But TRUST ME. These babies are to DIE FOR. Only… they're vegan, so nobody has to die! Yippee!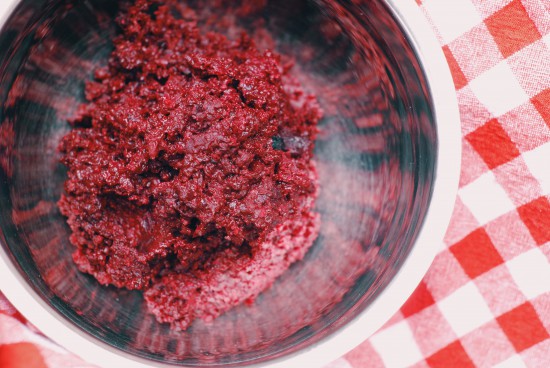 Ingredients
2 large beets
1 tablespoon olive oil
1 cup cooked kidney beans, rinsed and drained
1 cup cooked brown rice
2 oz espresso (or dark coffee)
2 tablespoons balsamic vinegar glaze*
1/2 teaspoon smoked sea salt (or ½ teaspoon salt plus ¼ teaspoon liquid smoke)
½ teaspoon black pepper
8-10 slider buns
Vegan mayo, for serving
Arugula, for serving
*You can purchase store bought balsamic vinegar glaze, or you can make it yourself by mixing balsamic vinegar and sugar in a 50:50 ratio, bringing to a boil, then reducing the heat to low, and simmering for 20-30 minutes, until the mixture is thick and syrupy.
Directions
Preheat the oven to 400 F. Wash and peel the beets. Cut them into quarters. Brush with olive oil, and place them on a foil lined baking sheet. Bake for 40-45 minutes, until the beets are soft. Let cool.
In a food processor, slowly pulse the beets, beans, and rice JUST until the mixture begins to clump. It's ok if there are small chunks.  Do not over-process! (See picture.)
Add the beet mixture to the bowl. Add half the espresso and 1 tablespoon of balsamic glaze. Add the salt and pepper. Mix with a fork. Put the beet mixture in the fridge for 30-60 minutes to chill.
 Preheat the oven to 350 F. Line baking sheets with parchment or grease them. Take the beet mixture and roll golf ball sized balls, them gently press them into disks. Line them on the baking sheet.
Mix together the remaining espresso and balsamic glaze. With a pastry brush, brush the glaze over the burgers.
Bake for 8-10 minutes. Then flip the burgers and brush the other side with glaze. Bake for another 10 minutes.
Remove the burgers from the oven and serve them on slider buns, and top with vegan mayo and arugula, or whatever your favorite burger fixings are!
If you give this recipe a try, take a photo and tag
#crueltyfreefamily
and/or
#pleasepassthepeace
. We are so excited to see your recreations!