Creamy Coconut Corn Soup w/ Thai Basil Pesto

Admittedly, one of the only things that really thrived in my garden this year is Thai basil. It must like a lot of abuse and a lot of weeds living near by. As it turns out, it's the perfect addition to this sweet, creamy corn soup.
Note: This soup can be eaten chilled or hot.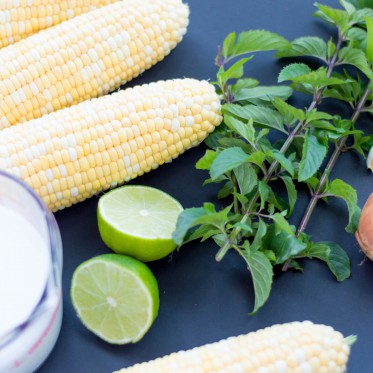 Ingredients
For the soup:
1 tablespoon coconut oil
1 onion, minced
2 cloves garlic, minced
3 cups vegetable broth
1 can coconut milk
4 ears of corn, kernels removed
Juice of 1/2 lime
1/2 teaspoon Sriracha
1 tablespoon thai basil, chopped
Fresh cracked pepper
Salt to taste
For the pesto:
3/4 cup Thai basil leaves
1 clove garlic
Pinch of salt
Fresh cracked pepper
3 tablespoons olive oil
Directions
For the soup:
In a large pot, heat coconut oil. Add onion and garlic. Sauté until fragrant and onions are translucent.
Add vegetable broth, coconut milk, corn, lime juice, sriracha, basil, pepper, and salt. Simmer until corn becomes tender, about 15 minutes.
Take soup off heat and allow to cool down a bit. Transfer in batches to a blender and blend until smooth.
You can chill the soup for a few hours, or transfer back to pot and heat up to serve.
For the pesto:
Add basil leaves, garlic, and salt to a mortar and pestle. Grind until leaves are broken down, and garlic and basil are fragrant.
Add olive oil and stir with a spoon.
If you don't have a mortar and pestle, add ingredients to a food processor and blend until smooth.
Drizzle pesto over soup and serve.
Enjoy!
If you give this recipe a try, take a photo and tag
#crueltyfreefamily
and/or
#pleasepassthepeace
. We are so excited to see your recreations!