Green Chile Sweet Potato Flautas

Here at Cruelty Free Family, we are huge fans of all things wrapped up in a tortilla, but our favorite of these foods is most definitely the flauta. These baked flautas are better for you than the deep fried kind, but just as delicious!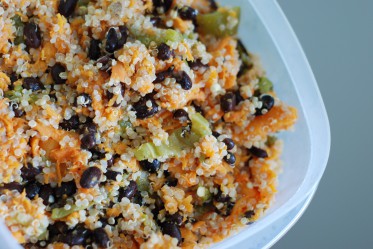 Ingredients
1 large sweet potato
2 mild Hatch chiles or poblano peppers
¾ cup cooked quinoa
1 15 oz can black beans, drained and rinsed
2 tablespoons lime juice
1 teaspoon cumin
½ teaspoon salt
4 large (10") tortillas
olive oil, for brusing
½ cup cashews
½ cup water
2 tablespoons lime juice
cilantro leaves
Directions
Preheat the oven to 400 F. Pierce the sweet potato with a fork. Put the sweet potato and the peppers in the oven directly on the top rack, with a pan underneath to catch any drips. Roast the peppers for 20 minutes, flipping halfway through.
Carefully remove the peppers, place them in a bowl and cover with a plate. Let the peppers naturally steam for 20-30 more minutes.
Let the sweet potato bake for 20 more minutes in the oven. Remove from the oven and let cool. Turn the oven down to 350 F.
Once the sweet potato and peppers are cool, carefully peel the skin of the peppers. Cut the sweet potato in half, and scoop out the flesh. Roughly chop soft sweet potato flesh and peppers into 1" chunks and place in a mixing bowl.
Add the quinoa, beans, lime juice, cumin, and salt to the mixing bowl. Give everthing a good mix.
In the blender, blend the cashews, water, and 2 tablespoons of lime juice. Set aside the cashew cream to drizzle over the flautas when finished.
Take a tortilla and place ¼ of the filling inside. Roll the torilla into a long tube, leaving the ends open. Repeat with the rest of the filling and tortillas. Brush the outside of the tortillas generously with olive oil.
Line a baking sheet with parchment paper or a silicone mat. Put the filled tortillas down seam-side down. Bake for 10 minutes. Then, using tongs, carefully flip over each flauta and bake for another 10 minutes. The tortillas should be getting slightly browned and crispy. Remove from the oven.
Let the tortillas cool, then slice and serve. Drizzle with cashew cream and top with cilantro.
If you give this recipe a try, take a photo and tag
#crueltyfreefamily
and/or
#pleasepassthepeace
. We are so excited to see your recreations!