My mom was the type of mom who sent us to school with half a pomegranate for snack time, while all the other moms packed Fruit Roll-Ups. While all my friends ate Captain Crunch for breakfast, I ate Puffins. Then I brushed my teeth with Tom's tooth paste.
One day, while Mom was ordering all of our food, out of some sort of book, probably made of recycled paper, she found Annie's. While I'm sure, at first, my brothers and I detested this Non-Kraft boxed mac and cheese, eventually we tried it. AND IT WAS THE BEST. THE BEST!!!!!!!
Let me tell you, some vegans miss bacon. I miss Annie's Alfredo Shells and Cheddar. So I've been working on recreating it and this recipe comes pretty dang close!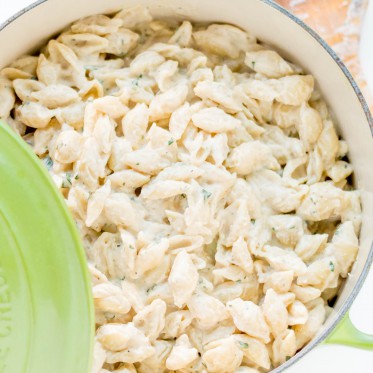 Ingredients
1/2 cup raw cashews, soaked overnight
1 head garlic
1 tablespoon coconut oil
1 onion, diced
1 1/2 cups vegetable broth
1/4 cup nutritional yeast
2 tablespoons tahini
1 teaspoon miso paste
1 tablespoon + 2 teaspoons lemon juice
1/2 teaspoon Dijon mustard
Salt and pepper to taste
1/4 cup fresh basil, chopped
1 lb mini shell pasta
Directions
Preheat oven to 400 degrees. Chop off very top of the head of garlic so all the cloves are exposed. Cut a square of tin foil, lay flat, and place the head of garlic on it. Drizzle about a teaspoon of olive oil, crack a little pepper, and sprinkle on a pinch of salt. Wrap the garlic in the foil and place directly on the middle rack in the oven. Take out the garlic after 20-30 minutes and the cloves have darkened and softened. Once cooled a bit, you can either take the cloves out one by one with a fork, or squeeze the cloves out.
In a skillet, on medium heat, melt coconut oil. Sauté onion until translucent. If you are pressed for time, and didn't soak cashews over night, you can add the vegetable broth and cashews to skillet and simmer for ten minutes. If cashews are sufficiently soaked, just take onions off of heat and add them to a blender along with cashews, garlic, vegetable broth, nutritional yeast, tahini, miso paste, lemon juice, mustard, and salt and pepper. Blend until COMPLETELY SMOOTH.
Cook pasta as directed.
Transfer Alfredo sauce into a pot and heat up on low heat. Add the basil.
Take off heat, pour over pasta. Serve immediately.
Enjoy!
If you give this recipe a try, take a photo and tag
#crueltyfreefamily
and/or
#pleasepassthepeace
. We are so excited to see your recreations!