Lately, Beth and I have been trying to incorporate some completely raw meals into our lives, which means some completely raw meals on our blog! Yay!
These raw tacos are bitchin', guys. And believe me, my husband had his doubts. We were pleasantly surprised at how satisfying these were. The taco shells and cooked ingredients were not missed, one bit!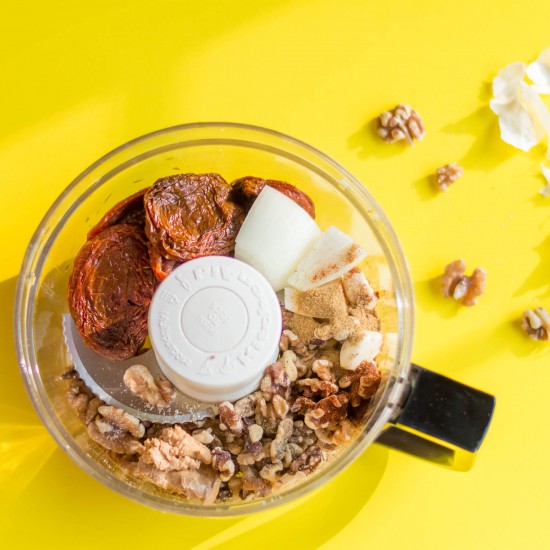 Ingredients
For the taco "meat":
1 cup walnuts
1/2 cup sun dried tomatoes, soaked over night
1 tablespoon raw nut butter (NOT peanut. I used cashew.)
1/4 small onion
2 cloves garlic
1 teaspoon chili powder
1 teaspoon cumin
Sea salt
Fresh cracked black pepper
For the cashew sour cream:
1/4 cup cashews, soaked over night
2-3 tablespoons almond milk
1 teaspoon fresh lemon juice
Pinch of sea salt
To assemble:
Raw taco "meat"
1 head lettuce
raw vegetables
cashew sour cream
fresh cilantro
lime wedges
Directions
For the taco "meat":
Add walnuts, sun dried tomatoes, nut butter, onion, garlic, chili powder, cumin, sea salt, and pepper to a food processor. Pulse until mixture is crumbly and looks similar to ground meat.
For the cashew sour cream:
Add soaked cashews, almond milk, lemon juice, and salt to a blender. Blend until COMPLETELY smooth.
To assemble:
You can use any type of large leafed green/lettuce. I used romaine. Rinse lettuce and lay leaves out flat. Add a few spoonfuls of "taco meat". The add fresh, raw vegetables. Tomatoes, avocado, cucumbers, corn, etc. Drizzle on some cashew sour cream, squeeze some lime, and garnish with fresh cilantro.
Enjoy!
If you give this recipe a try, take a photo and tag
#crueltyfreefamily
and/or
#pleasepassthepeace
. We are so excited to see your recreations!