I love raw food! Uncooked fruits and veggies are some of my favorite ingredients. But 10 days of salads in a row can get kind of boring. Sometimes you have to spice it up! Enter: zoodles! Zucchini noodles are a delicious way to enjoy some noodle-y deliciousness, and they soak up sauces really nicely, especially this flavor-packed raw coconut curry sauce!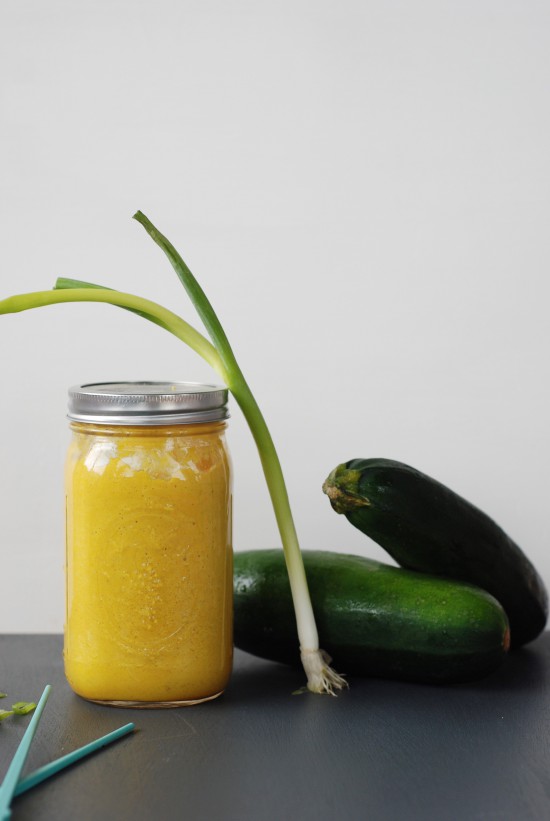 Ingredients
2 cloves garlic
2 tablespoons fresh ginger
3 dates
2 teaspoons curry powder
1 tablespoon turmeric
2 tablespoons lime juice
½ teaspoon salt
1 cup fresh coconut meat (not dried coconut)*
1 ½ coconut water*
½ cup water
1 tablespoon coconut aminos (or soy sauce, for a non-raw version)
3 zucchinis
1 carrot
1 scallion, sliced
* or, substitute with 2 cups of coconut milk
Directions
In a blender, blend together: garlic, ginger, dates, curry powder, turmeric, lime juice, salt, coconut meat, coconut water, and water, and aminos. Blend until completely smooth.
Use a spiralizer to make zucchini and carrot noodles. Or, use a vegetable peeler to peel the zucchini and carrot into razor thin slices, and then cut the slices into thinner noodles.
Pour some of the curry sauce into a bowl, and place a heap of zoodles on top of the sauce. Top with scallion. Serve!
If you give this recipe a try, take a photo and tag
#crueltyfreefamily
and/or
#pleasepassthepeace
. We are so excited to see your recreations!