Coconut Flour Pancakes with Toffee Sauce

Pancakes. Mmm. Pancakes. When I went vegan, I worried that I'd never have a decent pancake again. I was dead wrong. Vegan pancakes are delicious! So I wondered, would it be possible to make a vegan pancake that was also gluten free? And made with real, wholesome ingredients? Well, I experimented with a lot of different flours, and I've finally come up with a perfectly delicious, completely vegan, gluten-free pancake recipe that I'm really happy with. I highly recommend you top these pancakes with toffee sauce. This toffee sauce recipe comes from one of our favorite blogs, BeSolFul. I love that it's refined sugar free, and contains my absolute favorite ingredient on the planet: tahini! Thanks Mandy, for letting us share your recipe! We 've been drizzling it over everything!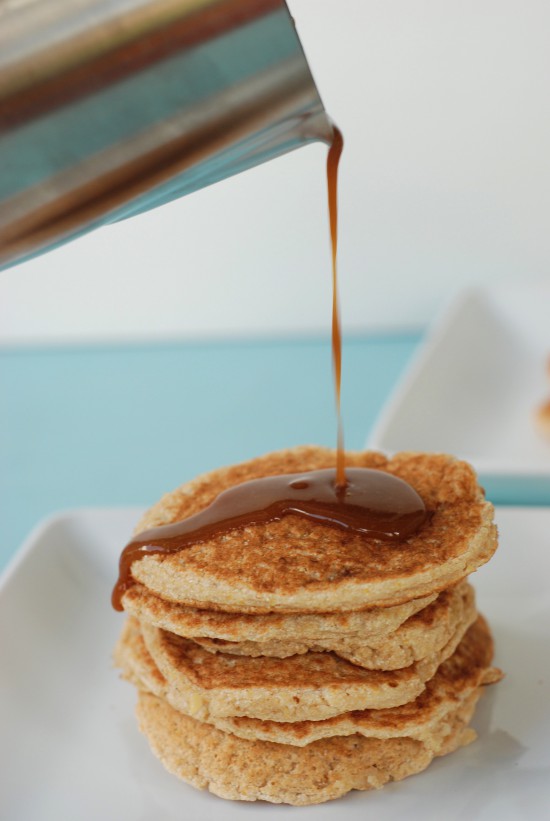 Ingredients
1/4  cup coconut flour
1/2 cup  gluten free oat flour
1 teaspoon baking powder
2 tablespoons ground flaxseed
1/2 mashed  ripe banana
1/2 cup water
1/2 cup almond milk, or more water
For the toffee sauce:
3 Tablespoons raw coconut sugar
2 Tablespoons raw tahini
1/2 Tablespoon raw coconut nectar
1/4 teaspoon vanilla extract
pinch of Himalayan salt
2 Tablespoons filtered water
Directions
Mix together all the dry ingredients (except for flax) in a mixing bowl.  Mix the banana, flax and wet ingredients in a separate bowl. Combine wet to dry.
Heat a nonstick or ceramic frying pan to medium heat. Let the pan preheat for at least 5 minutes.
Pour 2-3 tablespoon sized scoops of batter at a time onto the pan.
Cook for 5 minutes, or until the pancakes are no longer shiny and liquidy on top, then flip with a spatula. Cook on the other side, and cook for 3 more minutes. Keep the pancakes on an oven safe plate in a warm oven until ready to serve.
For the toffee sauce, whisk together all of the ingredients in a small bowl.
Then heat gently in a double boiler until warm, being careful not to burn the sauce. The sauce will thicken as it cooks.
Drizzle the warm sauce over the pancakes and serve HOT!
(Makes 8-10 silver dollar pancakes, or 4-6 medium pancakes.)
If you give this recipe a try, take a photo and tag
#crueltyfreefamily
and/or
#pleasepassthepeace
. We are so excited to see your recreations!