This recipe is great for those days you want black bean chili and cornbread, but you only want to dirty like, one dish.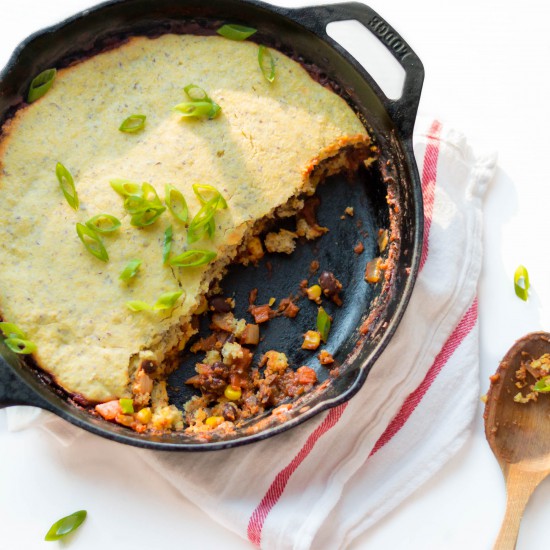 Ingredients
1 tablespoon coconut oil
1 onion, finely diced
1/2 red pepper, finely diced
3 cloves garlic, minced
1/4  jalapeño, seeded and finely minced
1 can black beans, rinsed
1 cup crushed tomatoes (Diced works fine too.)
1 teaspoon agave
1/4 cup water
1 teaspoon Better Than Bouillon (vegetable)
1/2 cup frozen sweet corn
1 teaspoon chili powder
1/2 teaspoon cumin powder
1/2 teaspoon paprika
1/4 teaspoon dried oregano
Salt and pepper to taste
For the cornbread:
2/3 cup flour
1/3 cup cornmeal
1 tablespoon + 1 teaspoon brown sugar
2 1/2 teaspoons baking powder
1/2 teaspoon salt
1/3 cup almond milk
1 teaspoon apple cider vinegar
1 flax egg (1 tbsp flaxseed meal + 3 tbsp water)
3 tablespoons melted butter (As an alternative use coconut oil.)
Directions
Heat coconut oil in a cast iron skillet, on medium heat.
Sauté onions, pepper, garlic, and jalapeño until onions are translucent and peppers have softened a bit.
Add black beans, tomatoes, agave, water, bouillon, corn, and spices. Simmer for about five minutes.
Take off heat and set aside.
Preheat oven to 350 degrees.
In a medium bowl, whisk together flour, cornmeal, sugar, baking powder and salt.
In a small bowl make flax egg.
In a medium bowl mix together almond milk and vinegar. Add in melted butter, then flax egg.
Pour wet mixture into dry mixture. Whisk until all ingredients are incorporated.
Pour batter over black bean mixture.
Place skillet into oven and bake for about 30 minutes, or until cornbread starts to brown a bit around edges.
Serve immediately with chopped green onions and vegan sour cream.
Enjoy!
If you give this recipe a try, take a photo and tag
#crueltyfreefamily
and/or
#pleasepassthepeace
. We are so excited to see your recreations!