This bisque, this bisque, unstoppable! Faith Hill? Anyone? OK, let's move on.
Creamy soups aren't really notorious for being filling, but this bisque has a secret protein packed ingredient. Chickpeas! No one will even know they're there, but trust me, there will be a lot less room for bread.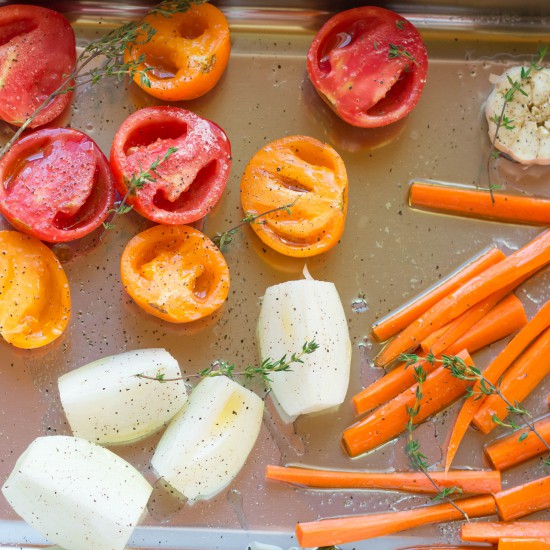 Ingredients
4 tomatoes, sliced in half and seeded
1 onion, quartered
2 carrots, sliced
1 head garlic
A few sprigs of thyme
olive oil for drizzling
salt and pepper to taste
4 cups water, divided
1 cup chickpeas, drained and rinsed
4 teaspoons Better Than Bouillon
1/4 cup nutritional yeast
salt and pepper to taste
1/4 cup fresh basil leaves, roughly chopped
Directions
Preheat oven to 400 degrees.
Chop off the very top of the head of garlic so all the cloves are exposed.
In a roasting pan, place tomatoes, face up. Spread out carrots and onion, and then place in head of garlic, face up. Place a few sprigs of thyme over vegetables. Drizzle everything with a little olive oil. Crack some pepper, and sprinkle some sea salt. Place pan in the oven and roast for 40-45 minutes.
Remove the pan from the oven and allow to cool for about ten minutes. Remove thyme. Flip the tomatoes over and remove the skin with a fork or your fingers. Take out the head of garlic and squeeze the cloves into a blender. Pour all of the contents of the pan into your blender. Even the olive oil. Especially the olive oil! Mega flavour!
Add 2 cups of water to the blender along with the chickpeas. Blend on high until everything is SMOOTH.
Pour into a large pot. Add remaining two cups of water, Better Than Bouillon (If you don't have Better Than Bouillon, use 4 cups of vegetable broth instead of the 4 cups of water!), nutritional yeast, and salt and pepper. Bring to a simmer.
Stir in fresh basil JUST before serving.
Enjoy!
Topping ideas:
Avocado
Croutons
Olive oil
Sriracha
Cashew cream
Vegan parmesan cheese
Fresh cracked pepper
Pesto
Fresh herbs
If you give this recipe a try, take a photo and tag
#crueltyfreefamily
and/or
#pleasepassthepeace
. We are so excited to see your recreations!