Thanksgiving Leftover Tacos with Cranberry Salsa

Thanksgiving leftover sandwiches are kind of legendary. I mean, the best part about Thanksgiving is getting to put all those leftovers in a sandwich, right? Well, I got the crazy idea that it might be good to put your thanksgiving leftovers in a taco. And boy, is it delicious! You can make this recipe using your Thanksgiving leftovers, but if you don't happen to have a fridge full of leftover tofurkey, you can easily whip up some Thanksgiving tacos from scratch. Just roast a couple of veggies, and sauté up some herbed seitan. Top it off with some cranberry salsa and a drizzle of tahini, and you have yourself one glorious taco.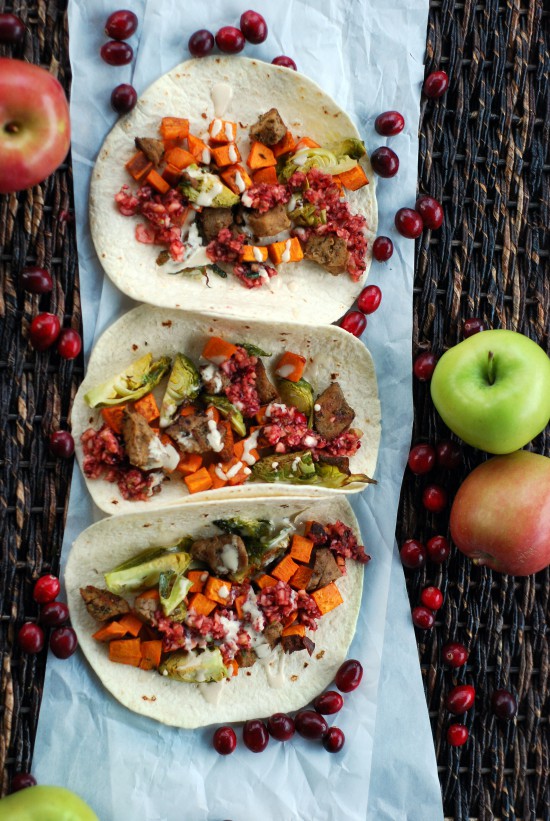 Ingredients
*Makes 8 tacos
For the Cranberry Salsa:
1 ½ cup fresh cranberries
1 large apple (a sweet variety, like gala or fuji works best)
½ jalapeño
1 shallot or ½ small onion
juice from 1 lime
3 tablespoons of sugar (or coconut sugar)
For the tacos:
2 small sweet potatoes (or 2 cups of leftover sweet potatoes or mashed potatoes)
8 oz Brussels sprouts (or 2 cups of any leftover vegetables)
8 oz seitan (or 2 cups of leftover tofurkey, cubed)
2 ½ tablespoons of olive oil
½ teaspoon ground sage
½ teaspoon dried thyme
½ teaspoon cinnamon
½ teaspoon salt
8 flour tortillas
Tahini, for drizzling (If your tahini is too thick to drizzle, thin it out with some warm water)
Directions
To make the salsa:
Dice the apple, jalapeno, and shallot into ¼ inch pieces. (Remove the seeds from the jalapeno before dicing if you prefer.)
Add the cranberries, apple, jalapeño, and shallot to your food processor. Pulse several times, so that the ingredients are finely chopped, but are not liquefied.
Put the mixture in a small bowl. Add the lime juice and sugar, and stir. Let the flavors meld for at least 15 minutes before serving.
To make the tacos:
If using leftovers:
Chop the tofurkey and leftover vegetables. Reheat your leftovers according to your preference.Warm the tortillas in a skillet, add your leftovers, and top with salsa. Drizzle the tahini over each taco.
If not using leftovers:
Preheat the oven to 425F. Peel and cut the sweet potato into ½ inch cubes. Cut the Brussels sprouts into quarters.
Line two baking sheets with parchment paper. Place the sweet potatoes on one sheet, and the Brussels sprouts on the other. Drizzle 1 tablespoon of olive oil over each sheet, and sprinkle each with ¼ teaspoon of cinnamon and salt. Toss to make sure the vegetables are well coated.
Bake both sheets for 15-20 minutes, until the sweet potatoes are soft, and the Brussels sprouts are soft and beginning to brown. The sweet potatoes may need to bake 5 minutes longer than the Brussels sprouts. Remove both sheets the oven when they are ready.
While the vegetables are baking, cut the seitan into bite size pieces. Heat a skillet over medium heat. When the pan is hot, add ½ tablespoon of olive oil and the seitan. Add the thyme and sage and stir to make sure the seitan is well coated. Cook the seitan for 5-7 minutes, turning the seitan frequently so that it will brown on all sides. Remove from the heat once brown and crispy.
Warm the tortillas in a skillet, add the sweet potatoes, Brussels sprouts, and seitan. Top with salsa. Drizzle tahini over each taco.
Watch them disappear!
If you give this recipe a try, take a photo and tag
#crueltyfreefamily
and/or
#pleasepassthepeace
. We are so excited to see your recreations!