This is vegan pot roast! Only, instead of meat, the "roast" is a whole head of cauliflower. Roasted cauliflower is one of the most delicious foods on the planet, and the presentation in this recipe makes it fancy enough to serve for a holiday meal. But… if your main course is cauliflower, where's the protein? In the gravy! This gravy is packed with lentils, cashews, and nutritional yeast, which are all loaded with protein. Smother your roasted veggies and potatoes in this gravy, and you've got yourself a complete meal!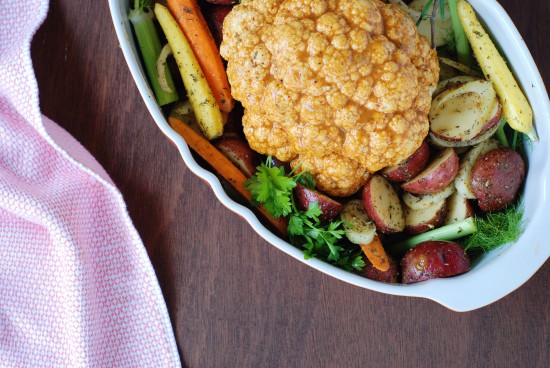 Ingredients
 For the pot roast:
1 whole head cauliflower
1 lb small red potatoes
1 whole bulb fresh fennel (Fennel haters can substitute with a large onion)
12 oz baby carrots, or whole carrots cut into finger-sized pieces
2-3 branches rosemary
small bunch parsley
3 tablespoons olive oil, plus 1 tablespoon
2 tablespoon herbs de Provence
½ teaspoon salt
2 cloves garlic, finely minced
¼ cup tahini
1 teaspoon smoked paprika
For the gravy:
1 onion
1 clove garlic, minced
8 oz brown mushrooms (baby bella, crimini, shiitake, etc)
1 teaspoon olive oil
4 cups veggie broth
1/2 cup lentils (red or brown)
1/2 cup raw cashews
1 tablespoon fresh rosemary leaves, finely minced (or 1 tsp dried)
¼ cup nutritional yeast
¼ teaspoon ground nutmeg
salt and pepper, to taste
Directions
Preheat the oven to 375 F. Remove the leaves from the cauliflower and place it in a large roasting pan or casserole dish.
Cut the potatoes into halves and the fennel bulb into slices. Coat the potatoes, fennel, and carrots with 3 tablespoons of olive oil, ½ teaspoon salt, and herbs de provence, and half the garlic. Spread the vegetables around the head of cauliflower.
Mix together the remaining tablespoon of olive oil, garlic, tahini, and smoked paprika. Brush the mixture over the cauliflower.
Cover with a lid or foil and bake for 30 minutes. Uncover, and bake for an additional 10-20 minutes. The vegetables are ready when they are soft when pierced with a fork.
While the vegetables are roasting, make the gravy. In a sauce pot, boil the lentils and cashews in the vegetable broth for 20 minutes. When they are done, turn the heat to low.
In a frying pan, sauté the onions in olive oil for 5 minutes. Add the garlic and mushrooms, and cook for another 2-3 minutes. Add the rosemary and cook until fragrant.
Add the onions and mushrooms to the pot with the lentils. Add the rest of the gravy ingredients.
Puree the gravy until smooth, using an immersion blender. Alternatively, let the gravy cool, and transfer to a blender and puree until smooth. Then, add the gravy back to the pot to reheat.
To serve, slice the cauliflower into wedges. Serve with plenty of gravy.
If you give this recipe a try, take a photo and tag
#crueltyfreefamily
and/or
#pleasepassthepeace
. We are so excited to see your recreations!