This bread is all around family inspired! You see, my sister-in-law has been showing me up by making BEAUTIFUL braided bread. So, I knew the next time I made bread, I had to get a little fancy with it.
The idea for pesto infused bread came about because, well, I had A LOT of basil. Last weekend we celebrated Thanksgiving with my husband's family and as I'm standing there in their kitchen, I look out the window, and my mother-in-law has a legit basil BUSH growing. I've never seen so much basil in one spot. Needless to say, I had a mini melt down because I can't even grow a tiny plant, and I think she felt so bad she offered it all to me.
So, I take my #pitybasil and I whizz it into pesto, and stick it in some dough, and it turned out so tasty I had to share the recipe.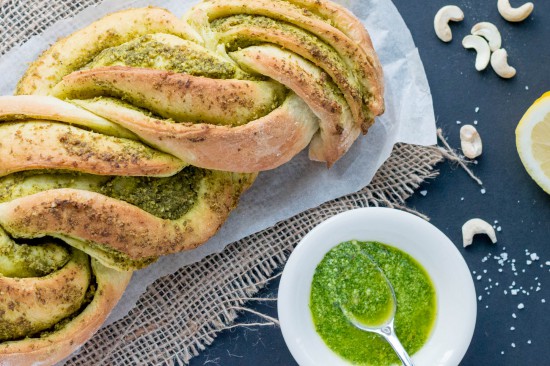 Ingredients
For the bread:
1 cup warm water
2 1/4 teaspoons active dry yeast
3 tablespoons olive oil
3 cups flour
2 tablespoons sugar
2 teaspoons salt
For the pesto:
2 cups fresh basil
1 tablespoon nutritional yeast
1/4 cup cashews
2 cloves garlic, roughly chopped
1 tablespoon fresh squeezed lemon juice
Pinch red pepper flakes
salt to taste
1/2 cup olive oil
Directions
Add yeast to warm water allow to set until frothy. Add olive oil.
In a large bowl, add flour, sugar, and salt. Give a quick stir so all of the ingredients are evenly distributed.
Add yeast mixture into the bowl and mix until the dough is shaggy. Turn out onto floured surface and knead for a few minutes, until dough forms a smooth ball. Grease your bowl and put your dough back in. Cover with a damp tea towel and allow to rise for 2-3 hours.
Meanwhile, make your pesto. Add all ingredients into a blender or food processor and whizz until smooth. Set aside.
Pre-heat oven to 350 degrees.
On a lightly floured surface, roll out dough and shape into a thin rectangle.
With a spoon, spread out your pesto.
With the long side facing you, pick up the edge, and tightly roll up the dough just as you would to make cinnamon rolls or a jelly roll. Transfer to a lined baking sheet.
Cut down the center of the entire length of the roll, creating two long pieces. Loosely wrap the pieces around each other a few times. Take both ends of the twist and gently tuck them underneath.
Place in the oven and bake for 30-35 minutes.
Enjoy!
If you give this recipe a try, take a photo and tag
#crueltyfreefamily
and/or
#pleasepassthepeace
. We are so excited to see your recreations!