The diminishment of fish in our oceans is serious, and something everyone should be concerned about. Over the last decade, sea life has taken a MAJOR hit, due to over-fishing and pollution. The thing is, this is absolutely preventable.
These Baja-style tacos are especially delicious because you can eat them with a clear conscience.
Save all the fish!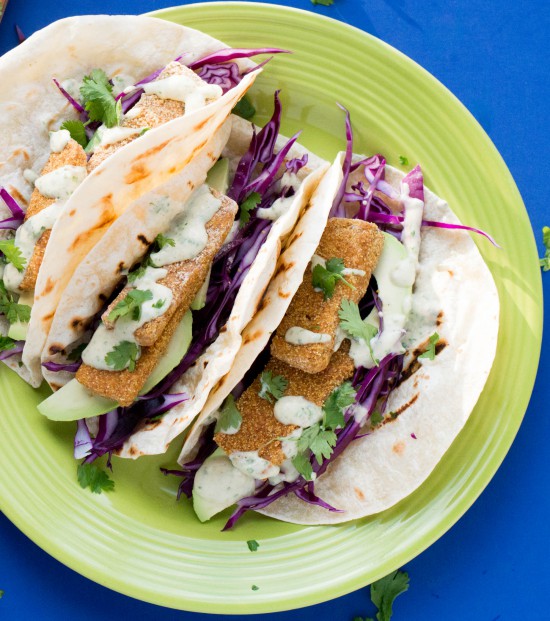 Ingredients
For the tofu marinade:
1/2 block extra firm tofu
Two cups water
1/4 cup soy sauce
2 tablespoons rice wine vinegar
1 clove garlic, finely minced
Pinch red pepper flakes
For the tofu coating:
1/4 cup cornmeal
1/4 cup flour
2 teaspoons old bay seasoning
Pinch of salt
For the sauce:
1/2 cup vegan mayo
1/2 cup unsweetened plain vegan yogurt
1/2 lime, juiced
1/4 onion
3 cloves garlic, roughly chopped
1/2 teaspoon Sriracha
1 teaspoon cumin
Cracked pepper
Salt to taste
large handful fresh cilantro
For the tacos:
2 cups shredded cabbage
1 avocado, sliced
6 tortillas
Directions
Press tofu to get out any extra liquid. Slice in half, and then slice one of the halves into four quarter inch thick pieces. Slice each of those pieces into three, ultimately ending up with 12 pieces.
In a shallow dish, whisk together water, soy sauce, vinegar, garlic, and red pepper flakes. Add tofu and let marinate for at least a few hours.
Preheat oven to 425 degrees.
In a medium bowl, add cornmeal, flour, old bay seasoning, and salt. Mix until incorporated. Line a baking sheet. One at a time, remove tofu pieces from the marinade and coat with the cornmeal mixture. Spread out pieces on baking sheet and bake for about 25 minutes, until coating has lightly browned.
Meanwhile, Add mayo, yogurt, lime juice, onion, garlic, sriracha, cumin, pepper, and salt to a food processor. Whizz until smooth. Add cilantro and pulse for a few seconds. If mixture is too thick for drizzling, cut with a tablespoon or two of water.
To assemble the tacos, Add cabbage, a couple slices of avocado, the tofu, then the sauce on a grilled tortilla.
Enjoy!
If you give this recipe a try, take a photo and tag
#crueltyfreefamily
and/or
#pleasepassthepeace
. We are so excited to see your recreations!