Roasted Brussels Sprouts with Cashew Bacon

So bacon has been in the news a lot lately, because they've proven that eating processed meats like bacon does IS in fact really, really bad for you. Like, cancer bad for you. You know what else? It's also really, really bad for the pigs! But fear not, we here at Cruelty Free Family have a solution! Annessia and I have a theory that you can turn anything into bacon. Coconut can be bacon. Tempeh can be bacon. Heck, we've turned carrot strips into bacon! Just make a food crispy, salty, smokey, and maple-y and you'll find that you've got yourself some plant-based bacon. This recipe is a vegan version of the classic roasted brussels sprouts and bacon. For the bacon, we're using cashews. And the results? Crunchy, yet chewy, perfectly smoky and sweet cashew bacon bits, tossed with perfectly roasted brussels sprouts. Yum! Trust me, you're going to file this one away to make as a holiday side dish!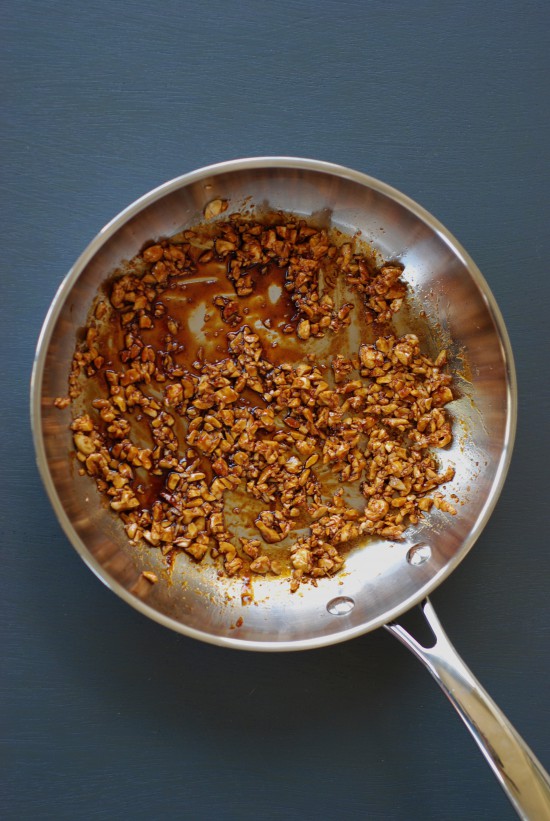 Ingredients
1 lb brussels sprouts
1/3 cup raw cashews or cashew pieces
2 tablespoon olive oil
1/4 teaspoon salt
3 tablespoons maple syrup
2 tablespoons liquid aminos or soy sauce
1 teaspoon smoked paprika
1/2 teaspoon liquid smoke
Directions
Preheat the oven to 425 F. Rinse the brussels sprouts, pat them dry, trim off any brown stems, and cut them into halves. Put them on a parchment or foil lined baking sheet. Make sure the brussels sprout halves are not too crowded or they won't roast properly. If necessary, use 2 baking sheets. Drizzle them with 1 tablespoon of olive oil, salt, and 1 tablespoon of maple syrup directly on the baking sheet and toss with your fingers. Bake for 15-20 minutes, until just beginning to brown.
Chop the cashews into small pieces, varying from the size of a pea to a grain of rice. Pit them in a small bowl and coat them with 2 tablespoons of maple syrup, the liquid aminos, smoke paprika, and liquid smoke. Let marinate for 5 minutes.
In a frying pan, heat one tablespoon of olive oil over medium heat. Add the cashews and the marinade, turning the heat down to medium low and stirring occasionally with a spatula. Cook until the marinade gets thick and syrupy, then turn off the heat and let the cashews sit until the brussels sprouts are finished.
When the brussels sprouts are done, toss them with the cashew bacon. The glaze from the cashews will be slightly syrupy and will coat the brussels sprouts as well.
Serve warm.
If you give this recipe a try, take a photo and tag
#crueltyfreefamily
and/or
#pleasepassthepeace
. We are so excited to see your recreations!