Beet Balls and Zucchini Noodles

You may think it's weird to make beet balls instead of meatballs, and zucchini noodles instead of regular noodles, but if being weird is wrong, I don't want to be right!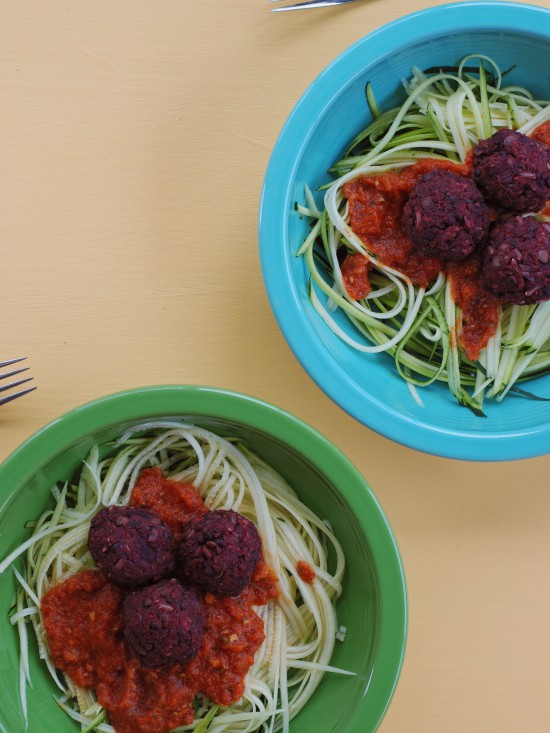 Ingredients
4 small beets, washed and peeled
1 ½ cups cooked brown rice
2 cups brown lentils
1 teaspoon olive oil
2 cloves garlic
1 small onion, diced fine
1 teaspoon dried oregano
2 tablespoons liquid aminos or soy sauce
¼ cup nutritional yeast
¼ cup old fashioned oats or breadcrumbs
½ teaspoon garlic powder
½ teaspoon onion powder
2 large zucchinis
Your favorite marinara sauce (or use one of our recipes)
Directions
Preheat oven to 400 F. Wrap each beet in foil and roast on a baking sheet for 45 minutes. Carefully remove the beets from the oven, let them cool, and then unwrap the foil. Cut the beets into quarters.
While the beets are cooking, in a frying pan over medium heat, sauté the onions and garlic in the olive oil until soft and fragrant.
Lower the oven to 350 F. In a food processor, blend together the beets, 3/4 cups of the rice, 1 cup of the lentils, the onions and garlic, oregano, liquid aminos, nutritional yeast, oats, garlic powder, and onion powder.
Puree the mixture in the food processor until well combined. A few chunks are fine. Put the puree in a bowl and mix it together with the rest of the lentils and rice. The mixture should be dough-like at this point. Put the bowl in the fridge for 15-30 minutes.
Take the bowl from the fridge. Line a cookie sheet with parchment paper. Roll the beet mixture into walnut sized balls, and place them on the baking sheet, spacing them a few inches apart.
Once all the balls are on the baking sheet , bake them in the oven for 12-15 minutes. They will brown slightly, but will still maintain their red color from the beets.
While the beet balls are baking, make the zoodles by using a spiralizer or, make zucchini strips using a vegetable peeler, and then slice the strips into thinner noodles.
Remove the beet balls from the oven and serve them over th zucchini noodles with warmed marinara sauce.
Optional: Top with vegan parmesean, basil, or a drizzle of olive oil.
If you give this recipe a try, take a photo and tag
#crueltyfreefamily
and/or
#pleasepassthepeace
. We are so excited to see your recreations!