Today, I'm sharing an all-time favourite. My older brother's and my favourite, most favourite, Thanksgiving recipe. Creamed Pearl Onions. Or, as my brother and I called them, Baby Onions.
"Mommmmmm…are you making the baby onions?!"
I have had to adjust the recipe to fit my vegan needs, but the taste remains the same, and it brings me right back to the kid table, which is much for fun than the grown up table, as it turns out.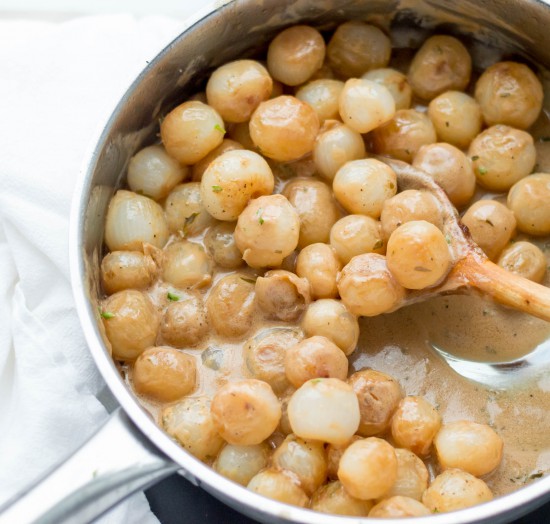 Ingredients
3 284g bags pearl onions
3 tablespoons olive oil, coconut oil, or vegan butter
1 cup low sodium vegetable broth
1/2 cup vegan sour cream*
1/2 teaspoon thyme leaves
2 teaspoons fresh parsley plus more for garnish
salt and pepper to taste
Directions
Peeling the onions can be sort of a pain, so if you can find these little babies pre peeled, in the frozen food section, I suggest you pick up a couple bags. Unfortunately I haven't found any pre-peeled. So, I boil a pot of water, slice off the very ends of each onions, blanch in the boiling water for 40 seconds, then transfer them to a bowl of ice water to stop the cooking. The peels should come off very easily.
In a large pan, on medium heat, heat your oil, or vegan butter. Add in your onions and let cook until they have browned a bit.
Pour in vegetable broth, sour cream, and add your fresh herbs, salt, and pepper.
Simmer on low until the cream sauce has thickened up.
Garnish with fresh parsley.
Enjoy!
Note: If you're trying to cut back on processed ingredients, use your own, home made cashew based sour cream.
If you give this recipe a try, take a photo and tag
#crueltyfreefamily
and/or
#pleasepassthepeace
. We are so excited to see your recreations!