Broccoli and Butternut "Cheddar" Soup

Broccoli Cheddar soup is traditionally full of, well, cheddar! It's a really rich soup. Originally when I thought about making this recipe vegan, I thought I would make it really rich with cashews and vegan butter. But sometimes, you don't want your soup to leave you feeling sluggish. That's why I made this soup with a butternut "cheddar" sauce. It's creamy and cheesy, but it's much lighter. This is a great for a cold winter night, when you're in the mood for comfort food, but want something packed with veggies. My favorite thing to do with this soup? Serve it over a baked potato!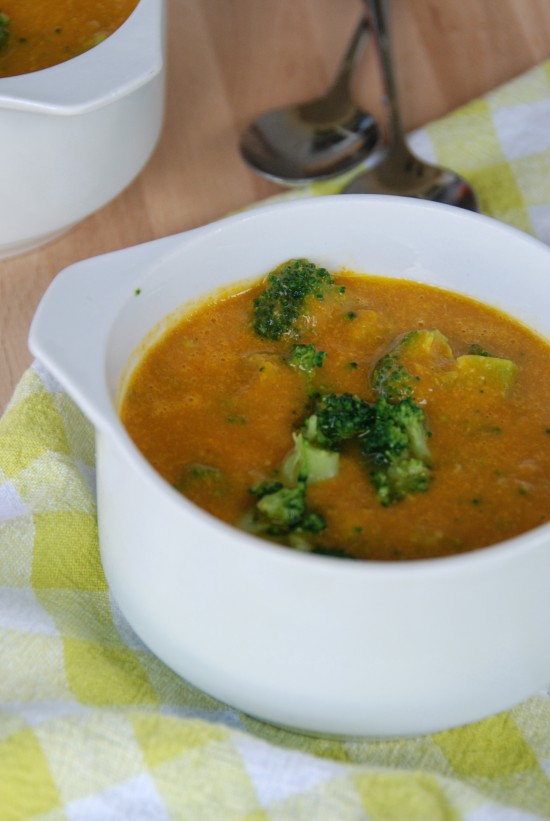 Ingredients
1 large butternut squash (about 2 to 2.5 lbs)
1 head broccoli
1 tablespoon olive oil
1 onion, diced fine
1 1/2  cup almond milk
1/2 cup nutritional yeast
2 tablespoons miso paste or chickpea miso
2  cups low sodium vegetable broth
1/2 teaspoon garlic powder
1/2 teaspoon cumin
1/2 teaspoon smoked paprika
Directions
1. Preheat the oven to 400 F. Cut the squash in half length-wise down the middle, and scoop out the seeds with a spoon. Put the squash  cut side up on a foil-lined baking sheet. Bake for 25-30 minutes until the flesh is completely tender. When the squash is finished cooking, let it cool and scoop out the orange flesh into a bowl and discard the peel.
2. While the squash is baking, cut the florets off the head of broccoli. Cut the florets and stem into bite-sized pieces. Steam the broccoli in a vegetable steamer (or use a colander over a pan of boiling water) for 7-8 minutes. Then, run the broccoli under cool water to keep the colors vibrant.
3. In a frying pan, over medium heat, saute the diced onion in the olive oil until golden brown, about 5-7 minutes.
4. In a blender, blend together the squash, onion, almond milk, nutritional yeast, miso paste, vegetable broth, and spices. Blend until smooth. (If you don't want to use a blender, you can mash the squash until smooth and whisk the rest of the ingredients together. It won't be as smooth, but it will still be creamy.)
5. But the squash sauce in a sauce pot over medium heat.  Add the broccoli. Heat until steaming hot, about 10-12 minutes. Serve warm.
If you give this recipe a try, take a photo and tag
#crueltyfreefamily
and/or
#pleasepassthepeace
. We are so excited to see your recreations!