Hanukkah is one of my favorite holidays! My husband is Jewish, and we celebrate both Christmas and Hanukkah in our house. It's really fun sharing traditions from our childhood together. Latkes, or potato pancakes, are an essential part of the holiday. We make them every year, and we almost always make them from scratch. We peel potatoes, grate them, and fry the latkes in oil. It's a big undertaking, and makes a huge mess, but we enjoy it. It's a family tradition. However, there are times when you want a latke, but you don't want to have to spend hours making latkes. So I invented this recipe. It utilizes frozen hash browns, which means no peeling and grating. And you don't even have to stand over the stove and fry the latkes, they bake in a muffin tin! The end result is a super delicious, crispy ,but not greasy, latke. We serve it with a little tahini crème fraiche instead of the traditional applesauce and sour cream. It's a traditional food with a non-traditional twist!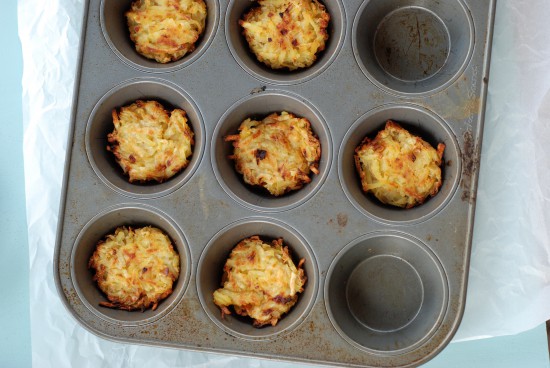 Ingredients
Makes 24 latkes
32 oz frozen hash browns (make sure the only ingredient is potatoes, I used Cascadian Farms organic hash browns)
1 large yellow onion
½ cup all purpose flour (or gluten free all purpose flour)
2 teaspoons baking powder
1 teaspoon salt
½ teaspoon onion powder
½ teaspoon garlic powder
1 tablespoon nutritional yeast
½ teaspoon black pepper
2-4 tablespoons olive oil
For the Tahini Crème fraîche:
¼ cup tahini
3 tablespoons warm water
1 tablespoon apple cider vinegar
1 tablespoon lemon juice
1 teaspoon white miso paste
Directions
Preheat the oven to 400 F. Brush a 12-cup nonstick muffin tin with 1-2 tablespoons of oil.
Defrost the frozen hash browns. Spread the potatoes out on a clean dishtowel and pat them dry. You want the potatoes to be as dry as possible to achieve maximum crispiness.
Peel and chop your onion into very fine pieces, and squeeze the chopped onion with a dishtowel as well.
In a mixing bowl, combine the potato and onion together with the flour, salt, onion powder, garlic powder, nutritional yeast, and pepper.
Put a heaping ¼ cup scoop of potato mixture into each muffin tin. Smooth down on the latkes and brush them with olive oil before placing them in the oven.
Bake for approximately 20-25 minutes. Check to make sure the latkes are not burning around the edges. Remove from the oven when they are golden brown. Let the latkes cool for 15 minutes, remove them from the muffin tin, and serve warm with non-dairy sour cream, applesauce, or whatever you prefer on your latkes.
To make the tahini cream
Mix together all of the ingredients until smooth.
If you give this recipe a try, take a photo and tag
#crueltyfreefamily
and/or
#pleasepassthepeace
. We are so excited to see your recreations!