Oil-less, minimal amount of ingredients, extra "cheesy", comforting, potatoes, need I go on?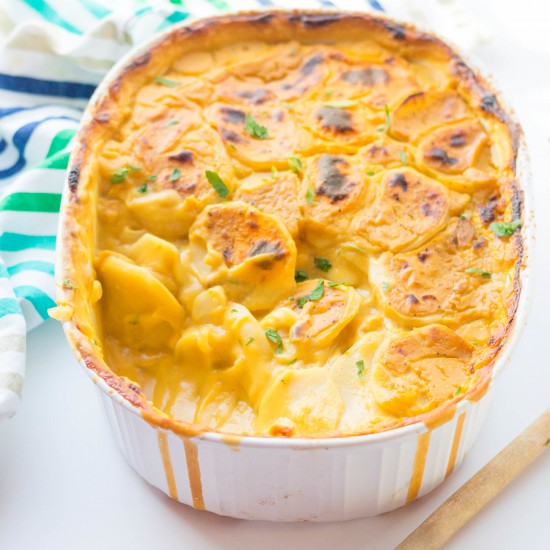 Ingredients
1 butternut squash, peeled and cubed
1/3 cup raw cashews
4 cloves garlic
4 cups vegetable broth
1/4 cup nutritional yeast
2 tablespoons lemon juice
salt and pepper to taste
8-10 medium potatoes, thinly sliced
2 onions, thinly sliced
Directions
In a medium sauce pan, simmer squash, cashews, garlic, and vegetable broth, until squash is tender.
Transfer contents of pan into a blender. Add nutritional yeast, lemon juice, salt, and pepper. Blend until completely smooth. I had to do this in two batches, as to not overflow my blender.
Preheat oven to 375 degrees.
In a large casserole dish, layer sliced potatoes, then sliced onions, then a scoop or two of your "cheese" sauce. Keep doing this until you have filled the casserole dish. Skip the onions and make your last layers potatoes, then more cheese sauce.
Cover and bake for 40 minutes. Uncover and bake for another 40 minutes. If you like a crispy top, broil on high until the top layer has browned.
Enjoy!
If you give this recipe a try, take a photo and tag
#crueltyfreefamily
and/or
#pleasepassthepeace
. We are so excited to see your recreations!