Christmas Morning Coffee Cake

My mom has been making this coffee cake for breakfast on Christmas morning for as long as I can remember. The original recipe is full of butter, eggs, sour cream, and sugar. I veganized the recipe, but I've left in all the sugary deliciousness, because if you're going to eat cake on Christmas morning, it should be decadent! I highly recommend making this coffee cake on Christmas Eve so that it's easy to serve Christmas morning.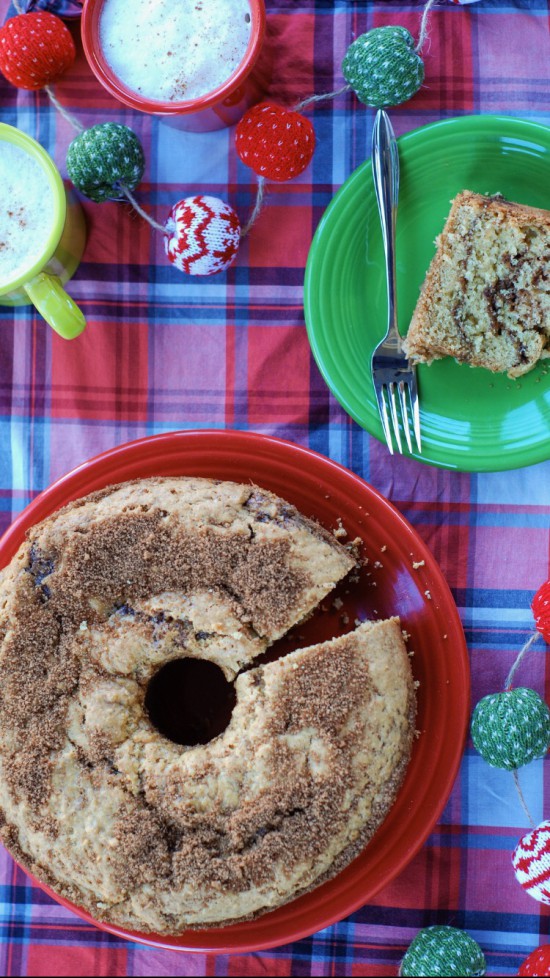 Ingredients
2 tablespoons of coconut oil or vegan butter (for greasing)
3/4 cup brown sugar
1 1/2 teaspoons cinnamon
3 cups all purpose flour
2 teaspoons baking powder
1 1/2 teaspoons baking soda
1/2 teaspoon salt
1 1/2 cups sugar
3/4 cup vegan butter
2 teaspoons vanilla extract
3 tablespoons ground golden flax seeds
3 tablespoons apple cider vinegar
6 tablespoons water
1 1/2 cups silken tofu (about 16 oz)
Directions
Preheat the oven to 350 F. Thoroughly grease a 10 inch 2-piece tube pan (angel food cake pan) with coconut oil or vegan butter.
Mix together the brown sugar and cinnamon in a small bowl and set aside
In a mixing bowl, combine the flour, baking powder, baking soda, and salt.
In a separate bowl, with an electric mixer, combine the butter and sugar and mix throughly. Then, add the vanilla, flax, vinegar and water, and mix until everything is smooth and well-combined.
Take the tofu out of the package, and use the electric mixer to blend the tofu in a small bowl until it is the texture of sour cream or yogurt. Measure 1 1/2 cups of the tofu. Add it to the wet mixture.
Slowly mix the flour into the wet mixture to form a thick batter.
Pour 1/3 of the batter into the greased pan, spreading evenly with a spatula. Sprinkle 1/3 of  the brown sugar and cinnamon mixture on top. Repeat 2 more times.
Bake for 1 hour. Let cool completely before removing from the pan.
Serve! Store covered, at room temperature.
If you give this recipe a try, take a photo and tag
#crueltyfreefamily
and/or
#pleasepassthepeace
. We are so excited to see your recreations!