If there was a movie about vegan food, tofu and hummus would be starring roles. But rarely do we ever see these two characters in the same dish… until now! I was snacking on some hummus, when I got the crazy idea to use hummus as "glue" to get breadcrumbs to stick. I decided to try it out on some tofu, and the results were delicious!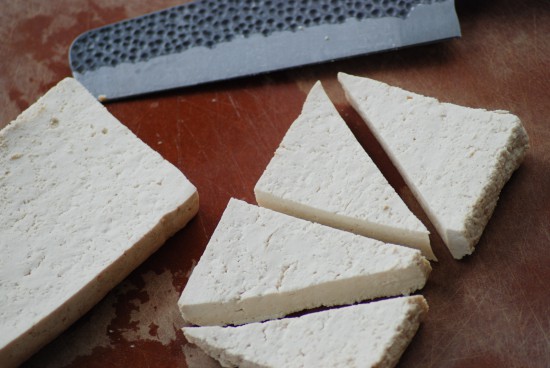 Ingredients
1 lb extra firm tofu, drained and patted dry
1/2 cup coconut aminos (or low sodium soy sauce)
1/4 cup lemon juice
1/2 cup hummus (homemade or store bought)
1/2 cup panko breadcrumbs
1/4 cup nutritional yeast
1 teaspoon garlic powder
1 teaspoon dried oregano
1/2 teaspoon salt
2 tablespoons olive oil
Directions
Wrap the tofu in a clean dish towel and place a heavy plate on top. Let the tofu press for 30-60 minutes.
Unwrap the tofu, and cut it in half so that you have two large rectangles. Then cut each rectangle into 4 triangles.
Marinate the tofu triangles in the coconut aminos and lemon juice, in a covered container in the fridge, for 1-8 hours.
Preheat the oven to 400 F. Line a baking sheet with parchment paper.
In a shallow bowl, mix together the breadcrumbs, nutritional yeast, garlic powder, oregano, and salt.
Take the tofu out of the container, pat it dry a little, and spread each side of the tofu with a thin layer of hummus.
Carefully coat the hummus-coated tofu in the breadcrumb mixture. Place the tofu on the parchment-lined baking sheet.
Using a pastry brush,  delicately dab the tops and sides of the tofu with olive oil.
Bake for 20-25 minutes. The breadcrumbs should be golden brown.
Carefully remove the pan from the oven. Use a spatula to transfer the tofu onto a serving plate.
Serve the tofu over salad, rice, or pasta.
If you give this recipe a try, take a photo and tag
#crueltyfreefamily
and/or
#pleasepassthepeace
. We are so excited to see your recreations!