White Bean and Spinach Ragù

This is a no-fuss, quick recipe, great for busy weeknights and weekend lunches. The whole meal takes about half an hour. I love the addition of white beans because they are protein packed, yet neutral in flavour, leaving room for the tomato sauce to shine. As for the spinach, I personally love the colour, and since you can't even taste it, it's sort of an injustice to your body to not add greens!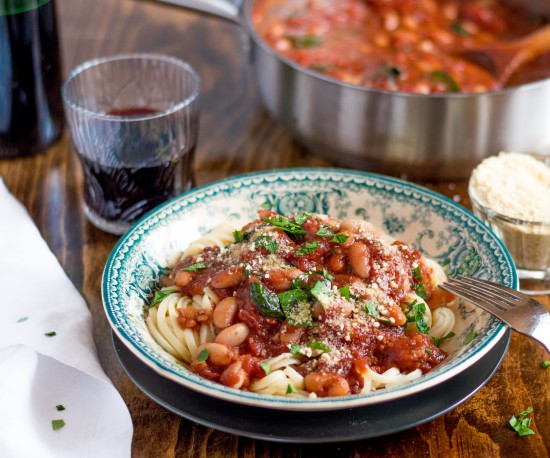 Ingredients
2 tablespoons olive oil
3 cloves garlic, minced
28 fl oz canned whole tomatoes, crushed with fingers
3 tablespoons tomato paste
1 cup red wine (check for vegan friendliness)
1 19oz can white beans, strained and rinsed
1 bay leave
1 tablespoon fresh basil, chopped (or 1 1/2 teaspoons dried basil)
1 tablespoon fresh parsley, chopped (or 1 1/2 teaspoons dried parsley)
pinch red pepper flakes
salt and pepper to taste
2 cups fresh spinach
Directions
Heat olive oil in a large pan, on medium heat. Sauté garlic until fragrant/ for about a minute.
Add tomatoes, tomato paste, red wine, beans, bay leave, basil, parsley, red pepper flakes, salt, and pepper. Simmer on low until tomatoes have cooked down a bit, and sauce has thickened. This should take about 25 minutes.
A few minutes before serving, remove the bay leave and add the spinach. This gives it enough time to wilt, but it will still retain it's bright green colour.
Serve over pasta.
Enjoy!
If you give this recipe a try, take a photo and tag
#crueltyfreefamily
and/or
#pleasepassthepeace
. We are so excited to see your recreations!