Like all crunchy moms, I love a good granola. But you know what I hate? That most granolas are full of  honey stolen from sweet little bees, or lots and lots of processed cane sugar. I've really been into using coconut sugar and coconut nectar as sweeteners lately, and thought that coconut nectar would be great in granola. This recipe is the perfect sweet-but-not-too-sweet snack for all you crunchy folks out there! Feel free to get creative with the nut/seed/spice combination you use in this recipe, I just used the nuts and seeds I happened to have on hand!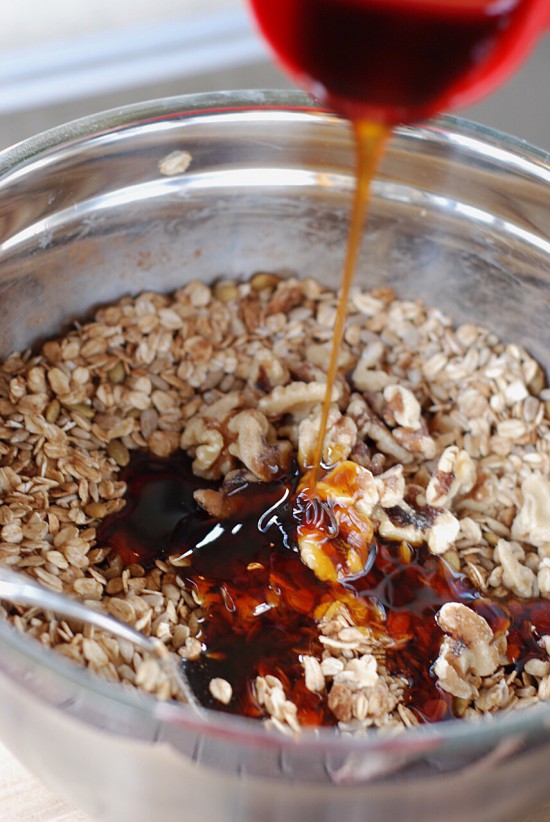 Ingredients
4 cups oats (use gluten free oats if making this recipe gluten free)
1/4 cup  extra virgin coconut oil, melted
1/2 cup pumpkin seeds
1/2 cup walnut pieces
1 cup raw sunflower seeds
2 teaspoons cinnamon
1 pinch ground ginger
1 pinch ground nutmeg
1/2 cup + 2 tablespoons coconut nectar
Directions
Preheat the oven to 300 F
Mix all of the ingredients together in a mixing bowl, making sure everything is well combined.
Spread the granola out in a thin layer on 2 parchment-lined baking sheets.
Bake for 30-40 minutes, carefully stirring every 10-15 minutes, until the granola is golden brown.
Remove from oven, let cool, and store in a covered container.
If you give this recipe a try, take a photo and tag
#crueltyfreefamily
and/or
#pleasepassthepeace
. We are so excited to see your recreations!