I have a tahini obsession. Hummus, salad dressings, smoothies, oatmeal… Tahini gets put in many dishes in this house. But recently I realized I've never tried putting tahini in soup! This soup is super creamy, and full of other goodness like chickpeas, coconut milk, and sweet potatoes. Perfect for those 5 days of winter we get here in Florida. (Apologies to my Canadian co-blogger!)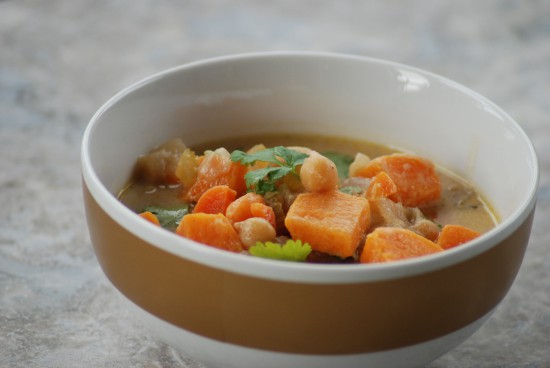 Ingredients
1 tablespoon coconut oil
1 onion, diced
1 clove of garlic, minced
3 stalks of celery, chopped
3 carrots, chopped
2 sweet potatoes, peeled, and cut into 1/2 inch chunks
1 tsp cumin
1 tsp corriander
1/2 teaspoon salt
1/8 tsp cayenne pepper
5 cups low sodium vegetable broth
14 oz coconut milk
1/3 cup tahini
2 cups chickpeas
1 cup cilantro leaves, roughly chopped
Directions
In a stock pot, heat the coconut oil over medium heat. Sauté the onion, garlic, and celery until soft.
Add the carrots, sweet potato, spices, and broth, and bring to a boil. Lower the heat and simmer until the sweet potatoes and carrots are soft, about 10-15 minutes.
Turn the heat to low. Stir in the coconut milk and tahini, mixing until all the tahini is melted. Add the chickpeas. Cook on low to Let the flavors meld for 10 more minutes.
Add the cilantro.
Serve warm.
If you give this recipe a try, take a photo and tag
#crueltyfreefamily
and/or
#pleasepassthepeace
. We are so excited to see your recreations!