It's an Atlantic Canada thing, and I'm super stoked to report: now it can be a vegan thing!
Well seasoned mushrooms topped with an addictively sweet and tangy sauce, plus some fresh veggies, all wrapped up in a pita; It's some seriously delicious eats.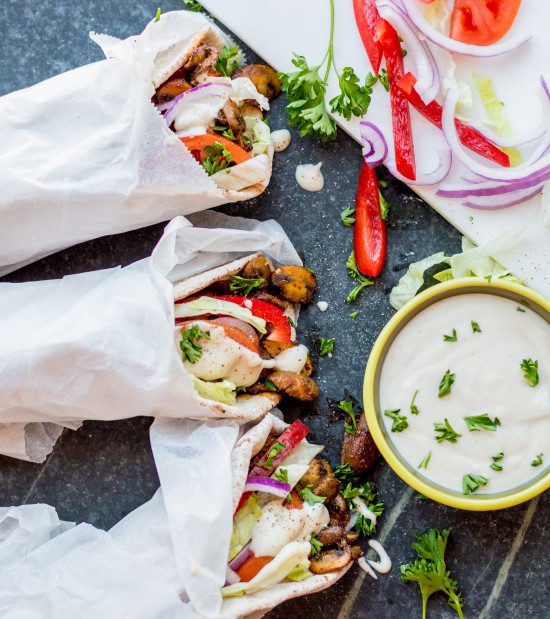 Ingredients
Donair Sauce:
1/2 cup raw cashews, soaked for at least 8 hours
3/4 cup plain unsweetened almond milk
2 tablespoons agave nectar
1 tablespoon + 1 teaspoon apple cider vinegar
1 teaspoon garlic powder
Donair:
2 tablespoons olive oil
8 oz mushrooms, sliced (I used baby bella)
1 teaspoon garlic powder
1 teaspoon onion powder
1/2 teaspoon dried oregano
1/2 teaspoon paprika
1/2 teaspoon black pepper
1/2 teaspoon salt
4 pitas
sliced tomato
sliced red pepper
shredded lettuce
sliced red onion
Directions
In a blender, blend cashews, almond milk, and agave until completely smooth.
Transfer to a small sauce pan. Add vinegar and garlic powder. Bring to a boil, whisking frequently. Sauce will begin to thicken after a few minutes.
Take off of heat.
Meanwhile, heat up oil in a cast iron skillet. Add mushrooms, spices, and sauté until the mushrooms have browned and caramelized a bit.
To assemble, place the mushrooms and veggies on top of your pita. Top with donair sauce.
Enjoy!
If you give this recipe a try, take a photo and tag
#crueltyfreefamily
and/or
#pleasepassthepeace
. We are so excited to see your recreations!