White chili… vegan style! For the vegan version, I took out the chicken and added chopped chickpeas, and replaced the dairy products with a luscious cauliflower cashew cream. The results were downright addictive. I highly recommend serving this chili with fresh, crispy oven fries!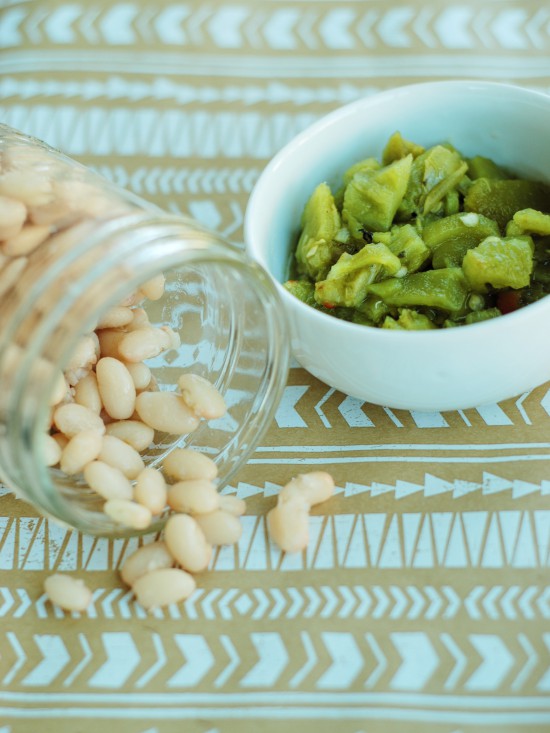 Ingredients
1/2 cup raw cashews
1/2 head cauliflower, chopped into large chunks
4 cups vegetable broth
1 tablespoon olive oil
1 medium onion, finely chopped
2 cloves garlic, minced
4oz can mild green chiles (I used Hatch chiles)
1/2 jalapeno pepper, diced finely
1 teaspoon ground cumin
1 tablespoon finely ground cornmeal (optional)
1/2 teaspoon salt
15 oz chickpeas, drained, rinsed, and chopped into small bits
15 oz cannelini or navy beans, drained and rinsed
cilantro, for garnish
Directions
Bring the vegetable broth to a boil in a medium pot. Add the cauliflower and cashews and boil for 10-15 minutes. Let cool completely and transfer to a blender, and blend the broth mixture until it is completely a  smooth cream.
In a large, heavy-bottomed pot, heat the olive oil over medium heat. Saute the onions for 5-7 minutes until soft. Add the garlic, jalapeno, and chiles and saute for an another minute.
Add the cornmeal, cumin, salt, chopped chickpeas, and white beans. Stir thoroughly.
Add the cauliflower cashew cream to the pot and bring to a simmer.
Turn the heat to low, and let cook for at least 30 minutes to let the flavors meld. Or transfer to a crock pot, and keep on low heat until ready to serve.
Serve warm, sprinkled with fresh cilantro.
If you give this recipe a try, take a photo and tag
#crueltyfreefamily
and/or
#pleasepassthepeace
. We are so excited to see your recreations!