Game day treats! Totchos are great for gluten free guests, or any guests, because let's face it, who doesn't love tater tots?
For fast assembly the day of, make the cheese sauce and sour cream the night before.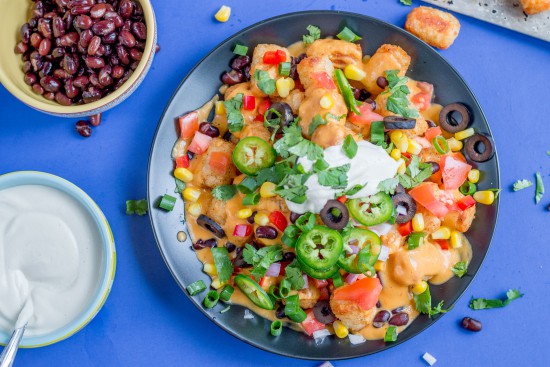 Ingredients
Sour cream:
1 cup cashews, soaked for at least 8 hours
1 tablespoon lemon juice
1 tablespoon nutritional yeast
1/2 cup + 1 tablespoon water
pinch of garlic powder
pinch of salt
Cheese sauce:
1/4 cup raw cashews
1/2 red pepper, cut into 1-2 inch pieces
1 medium potato, cut into 1-2 inch pieces
1 medium carrot, chopped
1 small onion, roughly chopped
3 cloves garlic
2 3/4 cups vegetable broth
1/4 cup nutritional yeast
1 tablespoon liquid aminos
1 tablespoon pickled jalapeño brine
3-4 slices pickled jalapeño
Totcho assembly:
1 bag tater tots, cooked as instructed
cheese sauce
nacho toppings (tomatoes, peppers, black beans, corn, avocado, green onions, cilantro, etc)
cashew sour cream
Directions
Sour cream:
Add all ingredients into blender. Blend on high until COMPLETELY smooth. This could take a few minutes.
Cheese sauce:
Add cashews, pepper, potato, carrot, onion, garlic, and vegetable broth into a medium pot. Make sure the pot is covered to keep the liquid from boiling out. Bring to a simmer. Allow to simmer for about 15 minutes, or until vegetables are tender.
Take off stove and allow to cool for 10-15 minutes. Pour contents into a blender. Add nutritional yeast, liquid aminos, jalapeño brine, and slices. Blend on high until completely smooth.
Transfer back into your pot to heat.
To assemble:
Place cooked tater tots on a plate or pan. Pour desired amount of cheese sauce over them. Add your favourite nacho toppings. Add a dollop (or two) of sour cream.
Enjoy!
If you give this recipe a try, take a photo and tag
#crueltyfreefamily
and/or
#pleasepassthepeace
. We are so excited to see your recreations!