"Parmesan" Cauliflower Bites

Bite-sized, golden-brown, crispy nuggets of goodness with a HUGE punch of (cruelty-free) cheesy flavour. And THAT…is all you need to know.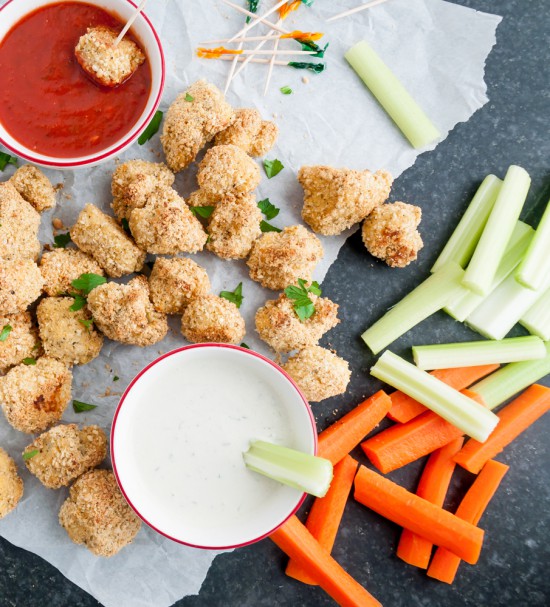 Ingredients
1 small head of cauliflower
For the batter:
1 cup garbanzo flour (chickpea flour)
1 cup almond milk
2 tablespoons apple cider vinegar
1 teaspoon garlic powder
1/4 teaspoon sriracha
1 teaspoon salt
For the breading:
1/2 cup nutritional yeast
1/2 cup raw unsalted cashews
1 cup whole wheat panko bread crumbs
2 teaspoons garlic powder
1 teaspoon onion powder
1 teaspoon dried basil
1 teaspoon dried oregano
1 teaspoon dried parsley
1 1/2 teaspoons salt
fresh cracked pepper
Directions
Pre-heat the oven to 425 degrees
Whisk together the flour, almond milk, vinegar, garlic powder, sriracha, and salt in a medium bowl, until it is a smooth batter. Set aside.
Add nutritional yeast, cashews, panko, garlic powder, onion powder, basil, oregano, parsley, salt, and pepper into your food processor. Pulse until the mixture is blended into small crumbs (no big chunks of cashews!). Pour mixture into a medium bowl and set aside.
Cut your cauliflower head into small bite size pieces.
Line a baking sheet with parchment paper.
Thoroughly coat each piece of cauliflower in the batter then roll in the bread crumb mixture. Place them on the baking sheet.
Bake for 30-35 minutes until they are lightly browned and crispy. Serve with warm marinara for dippin'.
Enjoy!
If you give this recipe a try, take a photo and tag
#crueltyfreefamily
and/or
#pleasepassthepeace
. We are so excited to see your recreations!