If someone would have told my ten year old self that I'd be cooking and enjoying stir fry, she would have called that person a damn, dirty liar. My brothers and I loathed stir fry; and it seemed as if my Mom made it every single night (TO RUIN OUR LIVVVVESSSS!).
At twenty five, I'm going through that phase of life when one realizes almost everything their mother said and did was right. Stir fry is no exception. Add it to the list. You were right, Mom!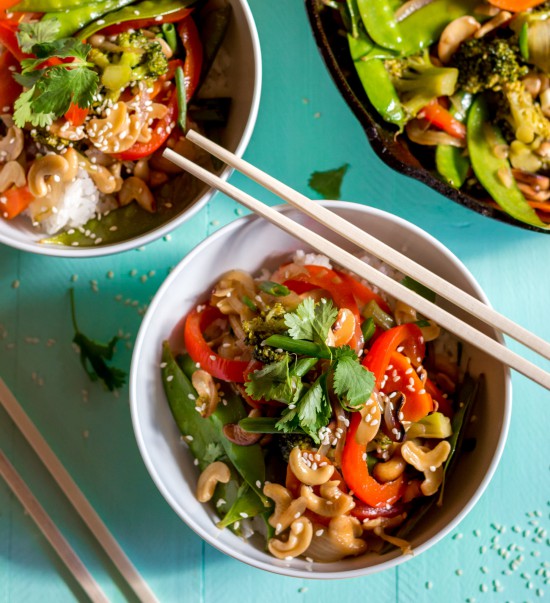 Ingredients
stir fry sauce:
1 cup vegetable broth
3 tablespoons coconut aminos
2 tablespoons agave
1 tablespoon sesame oil
2 teaspoons rice wine vinegar
1 teaspoon sriracha
1/2 teaspoon ground ginger
pinch of black pepper
2 teaspoons corn starch
stir fry:
1 cup raw cashews
1 tablespoon coconut oil
1 onion, sliced
4 cloves garlic, minced
1 medium carrot, sliced
1/2 red bell pepper, sliced
2 cups broccoli florets
handful of snow peas
2 spring onions, chopped plus more for garnish
sesame seeds for garnish
fresh cilantro for garnish
Directions
For the sauce:
Whisk together all ingredients in a medium bowl. Set aside.
For the stir fry:
On medium heat, toast the raw cashews. This only takes a minute, so watch and stir as needed so you don't burn. Remove from heat when the cashews have a bit of colour to them and become fragrant. Transfer to a medium bowl and set aside.
Melt coconut oil in your skillet. Add onion, garlic, and carrot. Sauté for a couple minutes.
Add red pepper, cashews and stir fry sauce. When sauce begins to simmer add the broccoli. Simmer on low for another couple of minutes.
Add snow peas and spring onions. Simmer for another minute or two and take off heat.
Serve over rice. Garnish with spring onions, sesame seeds, and fresh cilantro.
Enjoy!
If you give this recipe a try, take a photo and tag
#crueltyfreefamily
and/or
#pleasepassthepeace
. We are so excited to see your recreations!