Chickpea Flour Pizza Crust

A lot of my friends are living the gluten free life these days (including my lovely co-blogger). And while I still partake in eatin  gluten myself, I am a big fan of alternative grains and flours. One of my favorite flours to cook with is chickpea flour, or garbanzo bean flour. In this recipe, I use chickpea flour to make a protein packed, gluten free pizza crust! Unlike a wheat crust that is topped with sauce and toppings and then baked, this crust is cooked on your stovetop, then topped and baked.  The end result is a crust that is crispy and won't fall apart when topped with loads of veggies! For this version, we topped the pizza with a quick marinara sauce, cheesy tahini sauce, and loads of veggies. Makes 3-4 personal sized pizzas.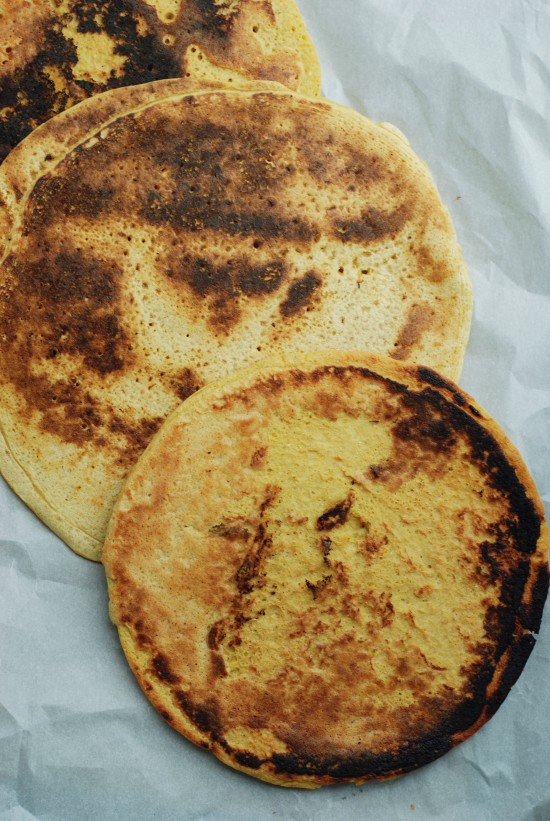 Ingredients
For the pizza crust:
1 cup of chickpea flour
2 tablespoons of cornmeal
1/2 teaspoon garlic powder
1/2 teaspoon salt
1/2 teaspoon dried oregano
1 cup water
1-2 tablespoons olive oil
For quick marinara sauce:
1 tablespoon olive oil
2 cloves garlic, minced
15 oz crushed tomatoes
1 teaspoon dried oregano
1 tablespoon chopped fresh basil
For the tahini cheese sauce:
1/3 cup tahini
1 tablespoon nutritional yeast
1 clove garlic, minced finely
2 tablespoons of very hot water
Pizza toppings:
artichoke hearts
olives
fresh tomato slices
baby spinach or kale
fresh basil
Directions
For the pizza crust, mix together all of the dry ingredients in a bowl. Add the water and create a batter. Heat a cast iron skillet to medium heat and add the olive oil. Pour 1/2 cup of the batter onto the skillet. Cook like you would a pancake, waiting for the batter to become solid before flipping. For a charred look to the crust, turn the heat to high briefly after the crust is cooked, just long enough to darken the crust in some spots. Then return the pan to medium heat and repeat the directions for 2-3 additional crusts.
For the marinara sauce, in a saucepan on medium heat, saute the garlic in olive oil for one minute. Add the tomatoes, oregano, and basil. Turn up the heat to medium-high. Allow the sauce to simmer, reduce the heat to low, and cook for 10-15 minutes.
For the tahini cheese sauce, mix together all of the ingredients in a bowl with a whisk. Add an additonal tablespoon or two of hot water if the sauce is not thick enough. It should be thick enough to drizzle over the pizza.
To create the pizzas, preheat the oven to 450 F. Top each crust with a layer of marinara sauce. Then, drizzle the tahini cheese sauce over the marinara. Last, add on your toppings.
Place each pizza on a cookie sheet or directly on the oven rack and bake for 10 minutes.
Carefully remove from the oven and cut with a pizza cutter. Serve hot!
If you give this recipe a try, take a photo and tag
#crueltyfreefamily
and/or
#pleasepassthepeace
. We are so excited to see your recreations!