Creamy Cauliflower & Roasted Garlic Soup

It's cold. Soup is warm. I love roasting things (especially garlic!).  So…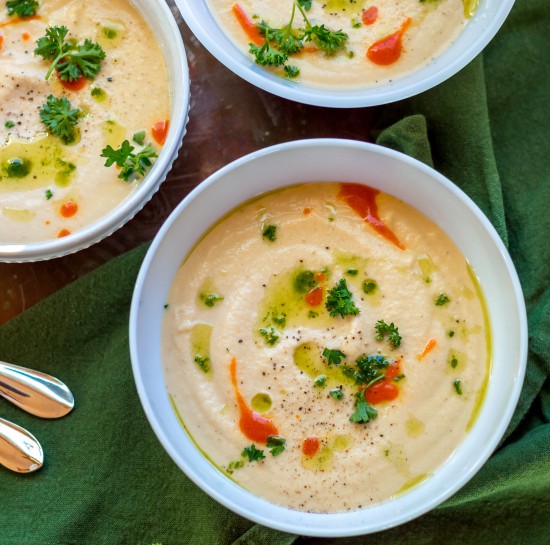 Ingredients
1 head garlic, roasted
1 head cauliflower, cut into florets
2 tablespoons olive oil, divided
1 onion, diced
6 cups vegetable broth
1/2 cup red lentils
1/2 cup raw cashews
juice of 1 lemon
1/4 cup nutritional yeast
1-2 teaspoons hot sauce
salt and pepper to taste
fresh parsley, good olive oil, fresh cracked pepper, and extra hot sauce for garnish
Directions
To roast garlic, preheat oven to 400 degrees. Cut the very top off the head of garlic so all cloves are exposed. Place on a square of tin foil. Drizzle a little olive oil and sprinkle a little salt and pepper over the garlic. Fold up tin foil around the garlic and place directly on oven rack. Roast for 30-35 minutes. Cloves should be soft and caramel in colour.
Preheat oven to 400 degrees. Place cauliflower florets in a large bowl. Pour one tablespoon of the olive oil over the cauliflower and toss with a spoon or clean hands. Line a baking sheet with parchment paper. Place cauliflower florets on the parchment paper, spreading them out so they aren't touching. Place in the oven and roast for about 25 minutes. Begin checking around 20 minutes. Take out of the oven when florets begin the brown around the edges. Set aside.
In a large pot, add the remaining tablespoon of olive oil. Heat up on medium heat. Add chopped onions, and sauté until onions are tender. Add vegetable broth, lentils, and cashews. Bring to a boil. Turn down heat and cover. Allow to simmer until lentils are cooked and cashews begin to soften. About 15 minutes.
Take off heat. Cool to room temperature.
Add garlic, cauliflower, lemon juice, nutritional yeast, hot sauce, salt, and pepper to the pot. In batches (it takes me two) transfer contents of pot into a blender. Blend until COMPLETELY smooth.
Heat before serving.
Enjoy!
If you give this recipe a try, take a photo and tag
#crueltyfreefamily
and/or
#pleasepassthepeace
. We are so excited to see your recreations!