I don't know what to say about these, other than I hope to hell you have a head of cauliflower on hand because you need these. Right now.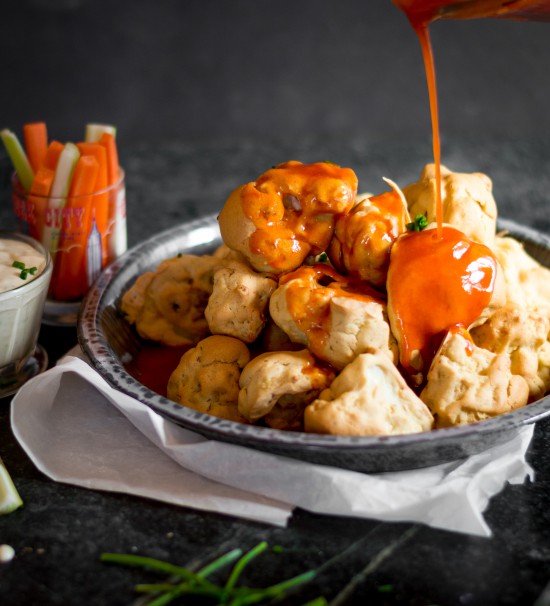 Ingredients
Wings:
1 head cauliflower, cut into large florets
1 1/4 cup chickpea flour
3/4 cup water
1 teaspoon garlic powder
pinch of salt
fresh cracked pepper
Ranch:
1 cup cashews, soaked for at least 8 hours
1 tablespoon nutritional yeast
2 cloves garlic
juice of 1/2 lemon
3/4 cup unsweetened almond milk
1 teaspoon apple cider vinegar
1 tablespoon chopped fresh dill
1 tablespoon chopped fresh chives
salt and pepper to taste
Buffalo Sauce:
1 cup hot sauce
1/4 cup coconut oil
1 tablespoon lemon juice
1 tablespoon coconut aminos
1 tablespoon agave
1/2 teaspoon garlic powder
Directions
For the wings:
Preheat oven to 450 degrees.
Cut cauliflower into large florets. Two bite-sized! To make them look like the real deal, they must have short stumps as well.
In a large bowl whisk together chickpea flour, water, garlic powder, salt, and pepper. This should be a very thick batter.
Add cauliflower to the bowl and toss with clean hands. Make sure to get the batter in all the crevasseses. Place cauliflower florets on a lined baking sheet. Take a spoon and scoop any remaining batter in the bottom of the bowl on top of each piece of cauliflower.
Place pan in oven. Bake for 35 minutes.
For the ranch dip:
In a blender, add cashews, nutritional yeast, garlic, lemon juice, milk, vinegar, salt and pepper. Blend on high until mixture is completely smooth. Pour into a bowl.
Whisk in chopped dill and chives.
Cover and set in the fridge.
For the buffalo sauce:
Add all ingredients into a medium pot. Heat up to allow coconut oil to melt. When hot, take off heat and set aside.
To assemble:
Place cauliflower wings into a large bowl. Pour desired amount of buffalo sauce over wings. Toss with a large spoon.
Serve immediately with ranch dip.
Enjoy!
If you give this recipe a try, take a photo and tag
#crueltyfreefamily
and/or
#pleasepassthepeace
. We are so excited to see your recreations!