I love a creamy, garlicky Caesar salad. I love pasta salad. I don't think I'm alone here. Combining the two just makes sense. Top with crunchy chickpea croutons, and you've got yourself a meal. The world is full of sad, boring salads. But it doesn't have to be. Go make this recipe, and be part of the solution. Help rid the world of sad salads!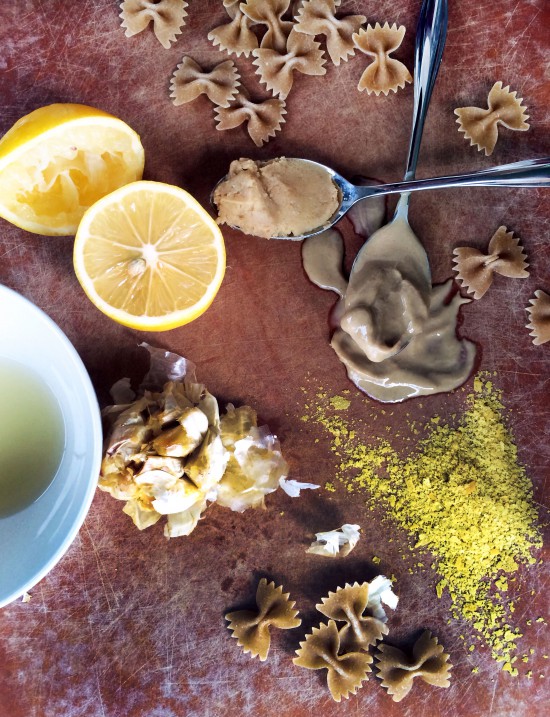 Ingredients
*Serves 4
For the caesar dressing:
1 head of garlic
1 teaspoon olive oil
¼ cup freshly squeezed lemon juice
¼ cup tahini
1 tablespoon miso paste
1 tablespoon nutritional yeast
3-5 tablespoons hot water
For the pasta salad:
8 oz Farfalle (bow-tie) pasta
2 tablespoons olive oil
1 clove garlic, minced
1 teaspoon dried oregano
1.5 cups (or 15 oz can) chickpeas, drained, rinsed, and patted dry
½ cup panko breadcrumbs
¼ teaspoon salt
1 teaspoon nutritional yeast
4 cups mixed salad greens
Directions
To make the caesar dressing:
Preheat the oven to 350 F. Cut ¼ inch off of the top of the head of garlic, so that all of the cloves are exposed. Drizzle olive oil over the garlic. Wrap in aluminum foil, and roast for 40 minutes. The garlic is done when it is completely soft when pierced with a knife. When finished roasting, let the garlic cool before peeling, and squeeze the individual cloves into a bowl to release the soft garlic paste.
In a small bowl or measuring cup, thoroughly mix the garlic paste, lemon juice, tahini, miso, and nutritional yeast until smooth. Stir in the hot water one tablespoon at a time, until desired consistency is achieved. Add salt, if needed. Set aside, or refrigerate, until ready to use.
To make the pasta salad:
Cook the Farfalle in a large pot of boiling water on the stove, until al dente. Drain, and rinse with cool water. Set the pasta aside, tossing with ½ tablespoon of olive oil to prevent sticking.
Heat a large heavy-bottomed skillet over medium heat on the stove. Add the olive oil and garlic, and stir for 30 seconds, until fragrant. Then, add the oregano and chickpeas. Allow the chickpeas to cook for 5-7 minutes, stirring occasionally to avoid burning.
Once some of the chickpeas begin to get brown and crispy, add in the breadcrumbs and another ½ tablespoon of olive oil. Continue to cook until the breadcrumbs are golden brown and toasted, about 4-5 more minutes.
Turn off the heat, and add the salt and nutritional yeast.
In a serving bowl or individual bowls, add the mixed greens and pasta, tossing both with the Caesar dressing. Top with the crispy chickpeas and breadcrumbs, and serve immediately.
If you give this recipe a try, take a photo and tag
#crueltyfreefamily
and/or
#pleasepassthepeace
. We are so excited to see your recreations!