Hollandaise sauce is probably one of the least vegan dishes ever… it's full of butter and eggs! But the great thing about plant based cooking is that there are SO many ways to replicate the creaminess of dairy without the dairy! In this recipe, I use something called aquafaba to thicken the sauce. Aquafaba is the leftover briny water from a can of chickpeas. When you whip this magical bean water, it turns white and fluffy, much like egg whites! The end result is a thick, luscious sauce that you'll want to drizzle over every veggie on your table!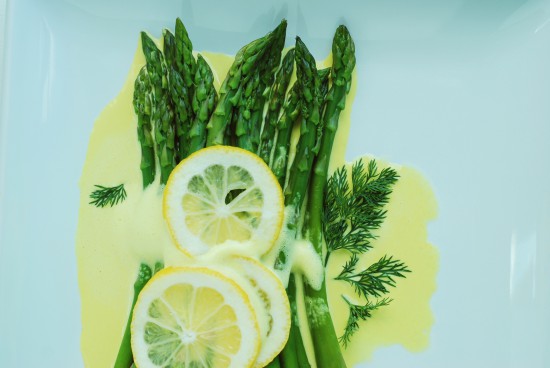 Ingredients
1/3 cup liquid drained from a can of chickpeas (aquafaba)
1 teaspoon lemon zest
3 tablespoons freshly squeezed lemon juice
2 teaspoons dijon mustard
1/4 teaspoon salt
1/2 cup extra virgin olive oil
lemon slices and fresh dill, for garnish
Directions
In a large mixing bowl, mix the aquafaba with an electric mixer (or use a stand mixer) on high speed for serveral minutes, until the aquafaba is white and fluffy and forms peaks, like whipped egg whites.
Using a spatula, gently fold in the lemon zest, juice, mustard and salt.
Turn the mixer back on, and slowly drizzle in the olive oil. The oil should emulsify and the hollandaise should be a creamy sauce. Place the mixture in the refrigerator to thicken up.
Serve over asparagus, broccoli, tofu benedict, or our vegan omelette recipe.
If you give this recipe a try, take a photo and tag
#crueltyfreefamily
and/or
#pleasepassthepeace
. We are so excited to see your recreations!