My family celebrates Passover, and we're always looking for creative ways to use matzoh during the holiday. This recipe was inspired by a dairy-filled version I used to make back in the pre-vegan days. Honestly, this version is way more delicious with it's layers of matzoh, spinach, garlicky mashed cauliflower and potato, drizzled with a decadent cashew cream. Even if you don't celebrate Passover, this is a great alternative to lasagna, and a delicious way to use up those matzoh crackers sitting in your pantry!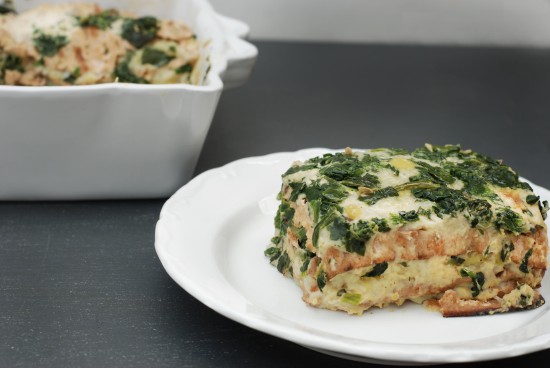 Ingredients
2 heads of garlic
 1 tablespoon plus 2 teaspoons olive oil
4 cups vegetable broth
5-6 small red or gold skinned potatoes, cut into halves (peeling is optional)
1 head of cauliflower, cut into 8 wedges
1 teaspoon dried oregano
1 1/2 cups raw cashews, soaked in water overnight or boiled for 10 minutes, drained
1.5 cups water
1/2 teaspoon salt
20 oz frozen, chopped spinach, defrosted
2 cups unsweetened almond milk or other nondairy milk
6-8 plain, whole wheat or spelt matzoh crackers
Directions
Preheat the oven to 400 F. To make the roasted garlic, cut about 1/2 inch off of the tops of 2 heads of garlic. You should be able to see the tops of the cloves inside their peels. Drizzle with 1 teaspoon of olive oil per head. Wrap the heads individually in foil, and bake for 30 minutes. The garlic cloves should be golden and soft when fully roasted. Set aside to cool. Peel the roasted garlic cloves from their skins, or squeeze them out of their skins. Set aside the roasted garlic.
Lower the oven heat to 375 F.
In a sauce pot, bring the the vegetable broth, potatoes and cauliflower to a boil. Let simmer for 15 minutes, until the potatoes and cauliflower are completely soft. Drain the broth, and add to the pot the remaining tablespoon of olive oil, the oregano, and the cloves from one head of roasted garlic. Mash the cauliflower and potatoes with a potato masher until they resemble mashed potatoes. Some chunks are fine.
In a blender or food processor, blend together the cashews, water, salt, and the remaining garlic cloves from the second head of roasted garlic. Blend until completely smooth.
In a lasagna pan, pour 1/3 cup cashew cream over the bottom of the pan. Place matzoh crackers on top, forming a single layer. It's fine if you have to break the matzoh crackers to fit your pan. (For my pan, I found 1 1/2 matzoh crackers fit the bottom of the pan perfectly)
After the matzoh layer, pour 1/4 cup almond milk over the matzoh to moisten it a bit. Then, add a layers in this order on top of the matzoh: 1/3 of the mashed cauliflower potato, 1/4 of the spinach, 1/4 cup cashew cream.
Repeat the layers all 2 more times. Then place your final layer of matzoh crackers on top (I like to carefully arrange these crackers because these are the ones that will be seen!) Finish with a layer of almond milk, a layer of spinach, and cashew cream.
Cover the dish with foil and bake for 30 minutes. Then, bake uncovered for 5 more minutes. Remove from the oven and let cool for 10-15 minutes before slicing and serving.
If you give this recipe a try, take a photo and tag
#crueltyfreefamily
and/or
#pleasepassthepeace
. We are so excited to see your recreations!