Greek Style Oven Fries & Tzatziki Dipping Sauce

So, the truth is, these happened after I couldn't get satisfactory photos of what I was supposed to post this week. After my third failed attempt, I turned to fries.
Guess what? They were better. Wayyyyy better than what I was going to post. Mostly because they are french fries but also because they are perfectly seasoned.
…And like basically everything in this world they could be made better by taztziki sauce.
So, get your oven going, start scrubbing those potatoes, and get ready for some serious (and glorious!) garlic breath.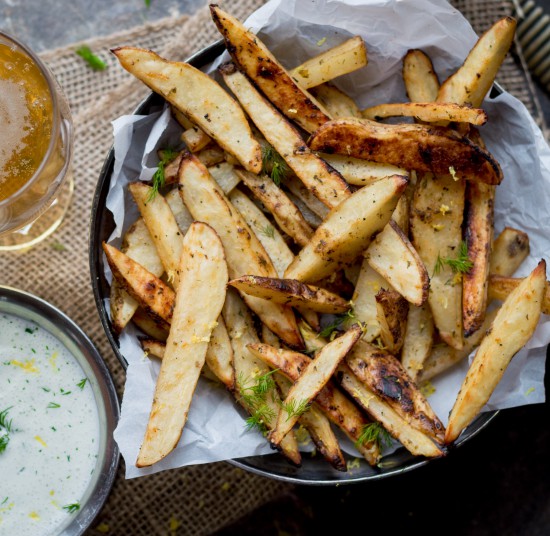 Ingredients
Oven Fries
4 large russet potatoes
1 teaspoon garlic powder
1/2 teaspoon paprika
1/2 teaspoon dried oregano
1/2 teaspoon dried parsley
1 tablespoon lemon juice
1 tablespoon melted coconut oil or vegetable oil
large pinch of sea salt
fresh cracked pepper
fresh dill and lemon zest for garnish
Tzatziki Sauce
1 cup vegan mayo or plain yogurt
1 cup cucumber, seeded and roughly chopped
2 tablespoons fresh dill
3 cloves garlic, finely minced
1 tablespoon + 1 teaspoon lemon juice
fresh cracked pepper
Directions
Preheat oven to 450 degrees.
Wash and cut potatoes into thick fries. Rinse and pat down with paper towel. Place fries into a large bowl.
Pour spices, lemon juice, and oil over fries and toss with clean hands until all fries are coated with seasonings evenly.
Spread out fries on lined baking sheet. Make sure they aren't touching. If they are too crowded they won't crisp up as well. Use two baking sheets if necessary.
Place in oven and bake for 30-35 minutes. Flip half way through bake time.
Meanwhile, add all tzatziki ingredients to a food processor and pulse until there aren't any large chunks of cucumber. Do not over blend. This sauce isn't supposed to be smooth.
Pour into a bowl and set aside.
Garnish fries with fresh dill and lemon zest. Serve with tzatziki sauce.
Enjoy!
If you give this recipe a try, take a photo and tag
#crueltyfreefamily
and/or
#pleasepassthepeace
. We are so excited to see your recreations!