Want to make your tastebuds happy? Make these crispy, creamy Avocado poppers!  I love dipping them in sriracha mayo. Clearly, being vegan is SO hard!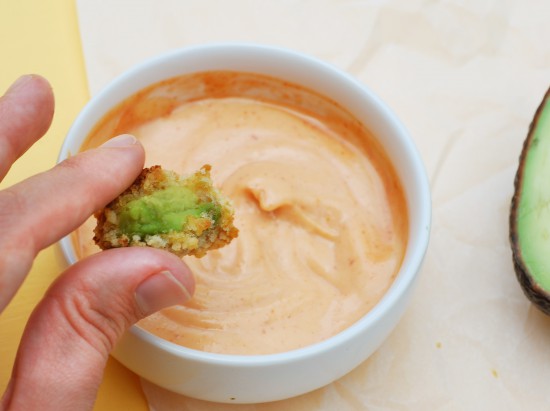 Ingredients
2 ripe avocados, pitted, peeled, and cut into 1/2 inch chuncks
1/2 cup of all purpose flour (or gluten free all purpose flour, I use Bob's Red Mill)
1/4 cup of ground flaxseed
1/2 cup water
3/4 cup panko breadcrumbs (or, finely crushed gluten free crackers)
1 teaspoon garlic powder
1/2 teaspoon salt
1 pinch fresh lime zest
1 pinch cayanne pepper (optional)
2-4 tablespoons melted coconut oil
1/2 cup vegan mayonnaise
1 tablespoon lime juice
2-4 tablespoons of sriracha
Directions
Preheat oven to 425 F. Line a baking sheet with parchment paper.
Add the flour to a shallow bowl. Add the water and flax to a second shallow bowl, and stir well, until the mixture becomes thickened, much like egg whites. To a third bowl,  mix together the breadcrumbs, garlic, salt, lime, and cayanne.
Dredge the avocado chunks in flour. Then dip them in the "flax egg," and then coat them in the breadcrumbs.
Place them on the baking sheet in a single layer. Very gently brush all sides with melted coconut oil.
Bake for 15 minutes. The breadcrumbs should be golden brown.
Mix together the mayonnaise, lime juice and sriracha
Serve warm.
If you give this recipe a try, take a photo and tag
#crueltyfreefamily
and/or
#pleasepassthepeace
. We are so excited to see your recreations!