Wedge Salad w/ Shiitake Bacon

Wedge salads are my jam, guys. I love the textures, they are amazingly fun to eat, and they are hearty yet feel light/crisp/clean.
…and lately, I've totally been addicted to shiitake mushrooms. I just lust after them, and the whole phenomenon has completely caught me off guard, as I spent my entire life hating them. They add such a "meaty-ness" and make the most terrific bacon!
*Serves 4*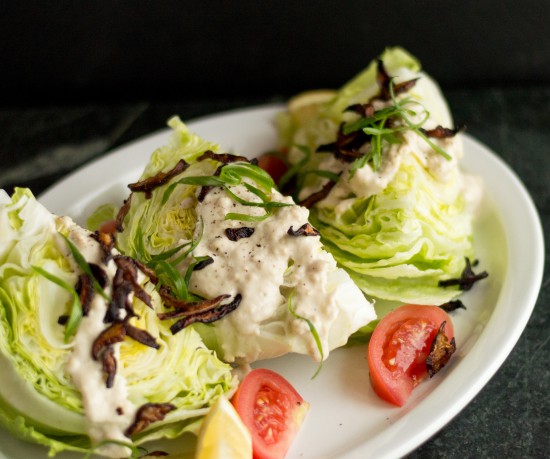 Ingredients
Shittake Bacon:
4 oz shiitake mushrooms
1/4 cup coconut aminos
1/2 teaspoon agave
1/4 teaspoon liquid smoke
1 teaspoon olive oil
pinch of sea salt
Blue Cheez Dressing
1 cup raw cashews, divided
1/3 cup plain almond milk
1 clove garlic
2 teaspoons apple cider vinegar
1/4 teaspoon agave
1/2 teaspoon coconut aminos
1/4 teaspoon dijon mustard
1 tablespoon olive oil
2 tablespoons water
1 teaspoon sea salt
1 tablespoon nutritional yeast
2 teaspoons lemon juice
Wedge Salad
1 head iceberg lettuce
1 tomato
scallions and fresh lemon wedges for garnish
Directions
For the shiitake bacon:
Preheat oven to 350 degrees.
Rinse mushrooms. Pat dry with paper towel. Remove stems (reserve for broth or other dishes), and slice.
In a medium bowl, whisk together coconut aminos, agave, liquid smoke, and olive oil. Add in the sliced mushrooms and toss. Allow to marinate for 5-10 minutes.
Remove from bowl and spread out on a lined baking sheet. Sprinkle with a pinch of sea salt.
Place in oven and roast for 15 minutes. Take out and brush with left over liquid. Place in oven and roast for another 15 minutes. Take out, flip mushrooms, brush with liquid, and place back in oven to roast for another 15 minutes. Mushrooms will roast for 45 minutes in total.
For the blue cheez dressing:
Place 1/2 cup of raw cashews in a small sauce pan. Cover with water. Bring to a simmer and allow to simmer for 15 minutes. Remove from water and place in a blender with almond milk, garlic, apple cider vinegar, agave, coconut aminos, dijon mustard, olive oil, water, and a pinch of sea salt. Blend until COMPLETELY smooth and creamy.
In a food processor, add the remaining 1/2 cup raw cashews, nutritional yeast, and 1 teaspoon salt. Blend until it's parmesan cheese consistency, almost a powder.
Transfer to a small bowl and pour lemon juice in. Stir gently with a fork. Mixture will start to get crumbly.
Add crumbly mixture to the creamy mixture and stir very gently.
For the salad:
Cut head of lettuce into four even wedges. Place tomato wedges around. Pour blue cheez sauce over wedges. Add shiitake bacon and garnish with scallions, lemon juice, and fresh cracked pepper.
Enjoy!
If you give this recipe a try, take a photo and tag
#crueltyfreefamily
and/or
#pleasepassthepeace
. We are so excited to see your recreations!