My go to mac and cheese sauce always involves cashews, potatoes, and carrots. One day, I realized I had purple carrots and purple potatoes in my fridge. I wondered… what would happen if I made my mac and cheese sauce with them? The result was a light purple sauce that looked a little strange, but tasted really delicious. What I really wanted was a VIBRANT purple sauce, so the second time I made the sauce, I threw in half a roasted beet! The end result is a sauce that is magenta-y purple, tastes fantastic, and is fit for the table of the finest princess party!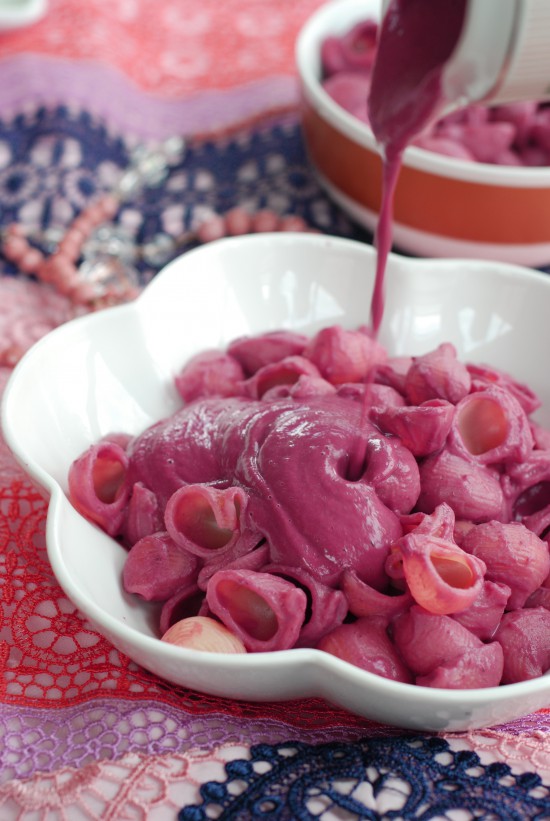 Ingredients
8 oz macaroni, cooked according to the package's directions
4 large purple carrots, peeled and cut into large chunks
1/4 sweet red onion, peeled and cut into large chunks
8 small purple potatoes, peeled and cut into quarters
1/2 of a small beet
1 cup cashews
1/4 cup nutritional yeast
1 clove garlic, minced
1 tablespoon white miso paste or chickpea miso paste
1 cup  low sodium vegetable broth
1 teaspoon lemon juice
1/2 teaspoon dijon mustard
Directions
Bring 6 cups of water to a boil in a medium sauce pot. Add the carrots, onion, potatoes, and cashews. Boil for 10 minutes. White the veggies are boiling, prepare a large bowl of ice water. When the veggies are done, drain them, and immediately submerge them in the ice bath. This will help them retain their bright purple color. Once cool, remove the veggies and cashews from the ice bath.
At the same time that you are preparing the boiled vegetables, wrap 1/2 of a small beet in foil and bake at 400 for 30-40 minutes. (You can also use a pre-cooked, leftover beet!)
In a blender, blend the veggies and cashews with the nutritional yeast, garlic, miso, broth, mustard, and cayanne. Blend until completely smooth and creamy.
Gently reheat the sauce in a sauce pot over low-medium heat. (Prepare the macaroni at this time.)
Toss with macaroni and serve.
If you give this recipe a try, take a photo and tag
#crueltyfreefamily
and/or
#pleasepassthepeace
. We are so excited to see your recreations!