I really admire those of you who garden. I've got somewhat of a black thumb, but I always try to grow a few things anyway. One thing I seem to be able to keep alive is mint. The great thing about fresh mint is that when you put it in dishes, it makes the whole dish taste like you just picked all the veggies from your garden. So fresh! So green! So whether you have a green thumb or a black one, you've got to try this recipe. It's full of peas, zucchini, and mint, which really make it refreshing. It doesn't matter if you grew all the veggies in this recipe in your own backyard, or picked them up at the  market, this hummus is going to be delicious!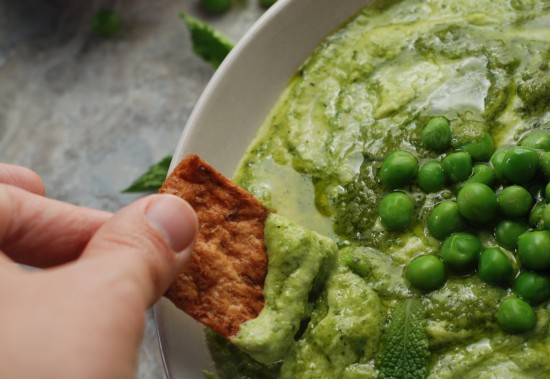 Ingredients
For the hummus:
1 1/4 cup peas, shelled if fresh, or frozen
3/4 cup white beans or chickpeas
1 small zucchini
2 tablespoons fresh mint leaves, chopped
2 tablespoons tahini
1 clove garlic, minced
2 tablespoons olive oil
1/2 teaspoon salt
3 tablespoons fresh lemon juice
For the pea-mint drizzle:
3 tablespooons olive oil
1/4 cup peas
4-5 mint leaves, chopped
pinch of salt
Directions
Steam the peas until bright green (1-2 minutes), and then drain them and rinse them with cold water. Set aside.
Grate the zucchini and measure 3/4 cup of grated zucchini.
In a food processor, blend together all of the hummus ingredients until smooth. Put the hummus in a bowl.
In a food processor, blend together the ingredients for the pea-mint drizzle until it resembles pesto. A few chunks of pea are ok.
Top the hummus with the pea-mint drizzle and serve!
If you give this recipe a try, take a photo and tag
#crueltyfreefamily
and/or
#pleasepassthepeace
. We are so excited to see your recreations!