Crespelle with Spinach, Ricotta, & Marinara

These are savoury thin pancakes stuffed with a creamy cashew based ricotta and spinach, smothered in your favourite marinara sauce and even more cheese! They are delicious, comforting, and surprisingly easy to make. *This recipe makes 6*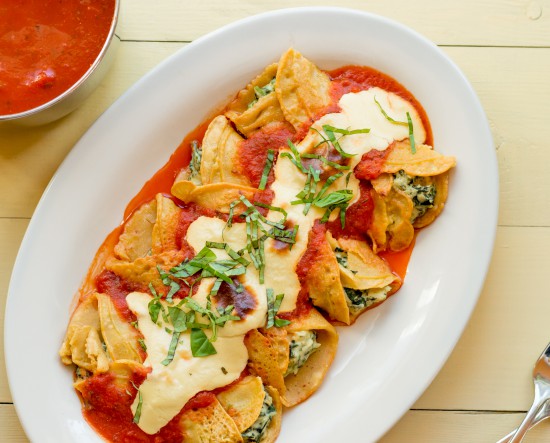 Ingredients
For the filling:
1 cup cashews, soaked for at least 8 hours
1 cup unsweetened almond milk
2 tablespoons nutritional yeast
1 teaspoon garlic powder
2 tablespoons fresh lemon juice
pinch of salt
4 cloves garlic, minced
1 tablespoon olive or coconut oil
1 cup frozen chopped spinach (I used Cookin' Greens)
For the crespelle:
3/4 cup chickpea flour
1 cup vegetable broth
1 teaspoon garlic powder
pinch of salt
coconut oil for the pan
To assemble:
1 cup marinara sauce
fresh basil for garnish
Directions
For the filling:
In a blender, add cashews, almond milk, nutritional yeast, garlic powder, lemon juice, and salt. Blend until completely smooth.
In a medium skillet, heat olive oil. Sauté garlic until fragrant and add spinach. Sauté for another minute and then add one half of the ricotta from the blender. Stir until all ingredients are incorporated and transfer to a bowl. Set aside.
For the crespelle:
In a medium bowl, whisk together chickpea flour, vegetable broth, garlic powder, and salt.
Heat a nonstick skillet on medium/low heat. When the pan is hot, pour a little batter into the pan. Spread batter out with a spatula or tilt skillet to distribute in a thin, even layer. Cook until it's not sticky to the touch anymore. You're not flipping, so you want to make sure it has cooked through. When cooked, fold each side in and remove from pan.
To assemble:
Add a couple rounded teaspoons of the ricotta spinach mixture into the crespella. Place stuffed crespella on a platter and spoon marinara over. Pour the other half of the ricotta from the blender over top. Optional: broil on high until the ricotta is starting to brown and get bubbly.
Garnish with fresh basil.
Enjoy!
If you give this recipe a try, take a photo and tag
#crueltyfreefamily
and/or
#pleasepassthepeace
. We are so excited to see your recreations!