Coconut Beet Ice Cream w/ Orange Zest

I know what you're thinking, which is exactly what my husband was thinking, beets do not belong in ice cream. I will admit, even I was a little skeptical when I put a spoonful of the unfrozen mixture into my mouth. My eyes opened wide, I looked at my husband and said "Holy hell! That's gooooooddd!" Then I crossed my fingers and hoped it would freeze into a beautiful, creamy ice cream. Sure enough, it did!
So here you have it, a delicious, creamy ice cream with hints of coconut and vanilla, just the right amount beet flavour, AND bonus, the beautiful beet colour!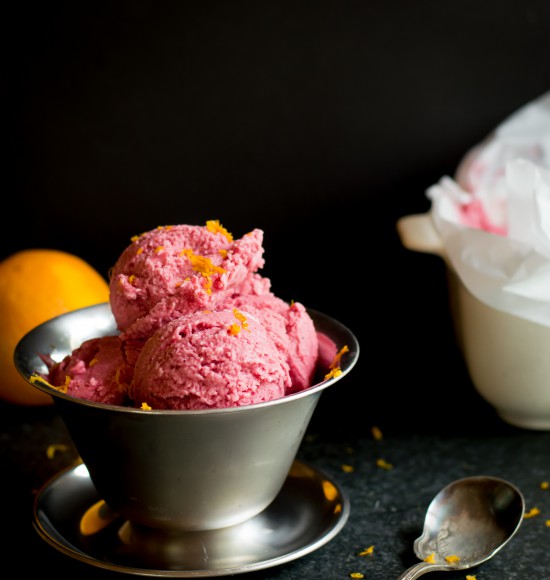 Ingredients
1 beet, peeled and quartered
2 teaspoons vanilla extract
1/4 cup maple syrup
1/4 cup coconut sugar
Liquid from 1 14 oz can chickpeas
1 can full fat coconut milk, chilled over night
Orange zest for garnish
Directions
Preheat oven to 425 degrees. Place peeled and quartered beet in an oven safe dish. Cover with foil.  Roast until tender, about an hour. Begin checking at the 40 minute mark.
Place roasted beet in a blender with vanilla, maple syrup, and coconut sugar. Blend until COMPLETELY smooth. Set aside
Line a dish with parchment paper. I use a loaf pan.
Pour one can's worth of chickpea liquid into a large bowl. Whip on high with electric mixer until white, fluffy, and stiff peaks will hold in the meringue. This takes a while, so be patient. About 5-7 minutes. Set aside.
Open the can of coconut milk and scoop the layer of fat off the top. Place in a medium bowl. Whip on high with your electric mixer until light, fluffy, and it has become whipped cream consistency.
Fold coconut whipped cream into the aquafaba meringue. Then fold in your beet syrup gently. Make sure everything is incorporated, but try not to over mix, as you want to keep the air in the mixture.
Pour mixture into loaf pan and place in the freezer. Allow to freeze overnight.
Remove ice cream from the loaf pan and place in a food processor. Mix until smooth. At this time, you can serve as soft serve ice cream. I like the place back in loaf pan and freeze for another hour or so to firm up a bit.
Enjoy!
If you give this recipe a try, take a photo and tag
#crueltyfreefamily
and/or
#pleasepassthepeace
. We are so excited to see your recreations!