This week I'm sharing the recipe for something I eat at least a couple of times a week. I make it as a brunch or pasta side dish, I've also been known to put it on a sandwich. Make this dish with fresh, off the vine tomatoes and it's sure to become an addiction in your household as well.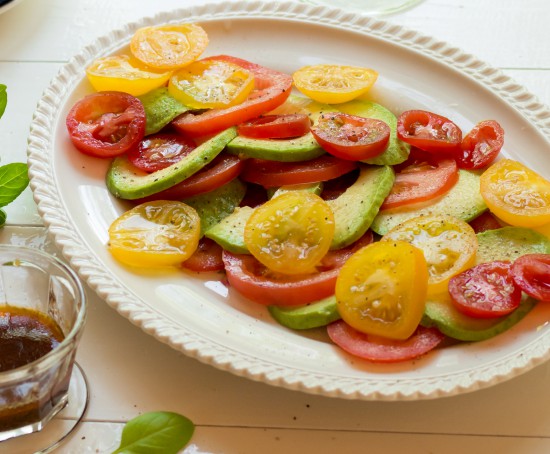 Ingredients
Dressing:
1 tablespoon balsamic vinegar
1 tablespoon olive oil
1 1/2 teaspoons nutritional yeast
1/2 teaspoon hot sauce
1 clove garlic, finely minced
Salad:
1-2 tomatoes, depending on size
1 ripe avocado
sea salt and fresh cracked pepper to taste
Directions
Whisk dressing ingredients together in a small bowl and set aside.
Layer sliced tomatoes and avocado on a plate. Sprinkle salt and crack a little pepper over salad. Drizzle dressing. Finish with fresh basil or parsley. Serve immediately.
Enjoy!
If you give this recipe a try, take a photo and tag
#crueltyfreefamily
and/or
#pleasepassthepeace
. We are so excited to see your recreations!