TBH, I'm a huge fan of anything I can dip into other things. These did not disappoint! They are crispy, savoury, simple, and delicious. An outrageously underused alternative to classic potato fries, if ya ask me! By using rice crackers instead of bread crumbs I kept this recipe gluten free. If you're avoiding soy as well make sure you check your rice cracker ingredients as many contain soy as a flavouring.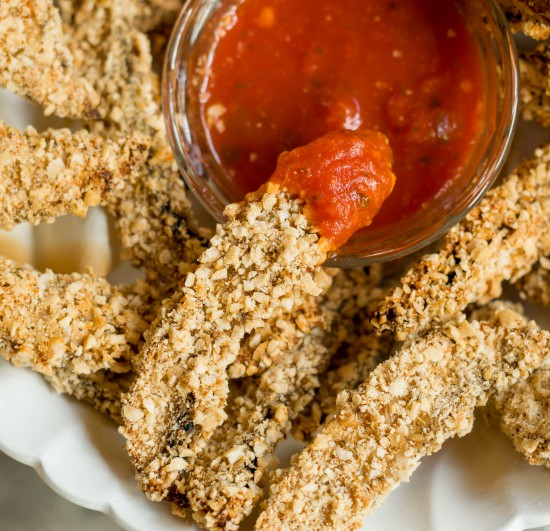 Ingredients
3 portobello mushrooms
2 cups vegetable broth
1 tablespoon coconut aminos
1 tablespoon agave
2 teaspoons garlic powder
1 teaspoon onion powder
1 teaspoon hot sauce
1 100g package rice crackers
1/2 teaspoon dried basil
1/2 teaspoon dried parsley
Pinch dried thyme
Pinch dried oregano
Pinch cayenne pepper
1 teaspoon garlic powder
1 teaspoon onion powder
Fresh cracked pepper
Directions
Remove stems and gills of mushrooms then slice. Save mushroom scraps for soup broths!
In a shallow dish, whisk together veg broth, coconut aminos, agave, garlic powder, onion powder, and hot sauce. Place sliced mushrooms in dish so they are completely covered by marinade. Allow to marinate for a few hours.
Preheat oven to 425 degrees.
Add rice crackers, basil, parsley, thyme, oregano, cayenne pepper, garlic powder, onion powder, and fresh cracked pepper to a food processor. If your rice crackers are unsalted add a pinch of salt. Whizz until bread crumb consistency. Transfer to a bowl.
Line a baking sheet with parchment paper.
Remove mushrooms from marinade and coat each slice in crumb mixture. Place on baking sheet. Bake for 22-25 minutes, until golden brown and crispy.
Dip in your favourite marinara.
Enjoy!
If you give this recipe a try, take a photo and tag
#crueltyfreefamily
and/or
#pleasepassthepeace
. We are so excited to see your recreations!