Grilled Lemon Potato Salad

It's summer! Eating grilled food is one of my favorite parts of summer. And of course, when you're grilling, potato salad is a must! This recipe makes potato salad right ON the grill! If you don't have a grill, I've included instructions on how to make this recipe indoors as well. Either way, this side will be the star at your next barbecue! We highly recommend serving them with veggie burgers, especially our homemade Sweet Potato Beet Burgers!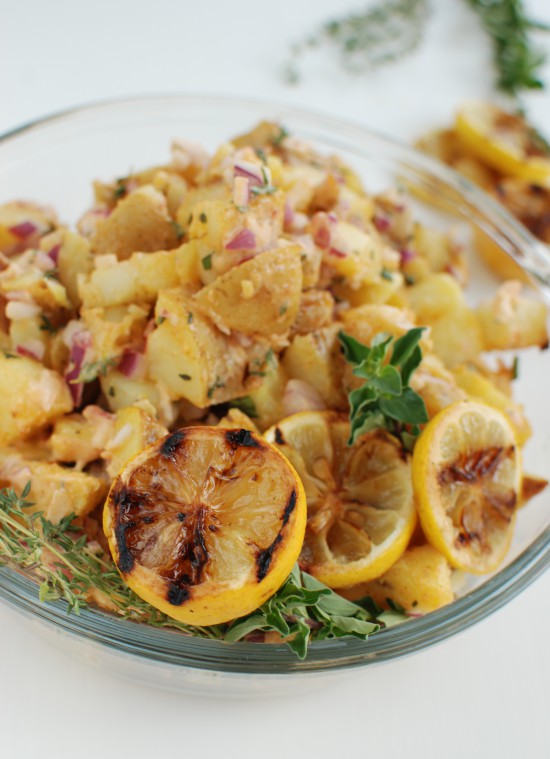 Ingredients
4 lemons
3 lbs Yukon gold potatoes, cut into 1-inch cubes
1 tablespoon olive oil
1 teaspoon garlic powder
1/2  teaspoon salt
1/2 red onion, finely diced
2/3 cup vegan mayonnaise
1 tablespoon dijon mustard
2 tablespoons nutritonal yeast
1 teaspoon smoked paprika
3-4 springs of  fresh oregano, leaves removed and chopped
4-5 sprigs of fresh thyme, leaves removed
Directions
If using a grill, preheat the grill to medium-high heat. If using a grill pan, heat the grill pan on the stove over medium heat.
Cut the lemons in half and remove any seeds.  Grill cut-side down for 3-5 minutes until the lemons are slightly charred. Set aside to cool.
If using the grill, toss the potatoes in olive oil, garlic powder, and salt. Take 4 sheets of aluminum foil and wrap 1/4 of the potatoes in each sheet, folding in the corners and making 4 little packet.  Grill over direct medium heat for 20 m, bring to a boil, and inutes, flipping halfway through. Check for softness by carefully opening the foil and piercing the potatoes with a fork. Once soft, unwrap the potatoes from the foil and let them cool completely in a bowl.
If not using a grill, put the potatoes in large pot, fill with water, and bring to a boil. Let the potatoes boil for 10-12 minutes, until they can be easily pierced with a fork. Drain and rinse with cold water. Gently pat the potatoes dry with a clean kitchen towel. Place them in a bowl and toss with olive oil, salt, and garlic. Put them in a bowl.
To make the dressing, juice the lemons into a bowl. Remove any seeds. Add the mayonnaise, mustard, nutritional yeast, and paprika. Mix well.
Gently toss the onion, oregano, and thyme in with the potatoes. Gently coat the potatoes with dressing.
Serve with extra grilled lemons and fresh herbs. Cover leftovers and store in the refrigerator.
If you give this recipe a try, take a photo and tag
#crueltyfreefamily
and/or
#pleasepassthepeace
. We are so excited to see your recreations!